'Beauty And The Beast' Is Waltzing Back Into Theaters Ahead Of Awards Season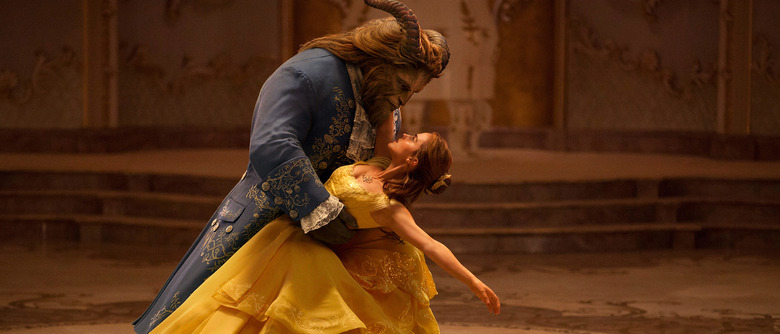 In a tale as old as time, an awards hopeful is returning to theaters for a limited run just in time for awards season.
Bill Condon's lush remake of the animated classic Beauty and the Beast is getting a theatrical re-release in Los Angeles and New York City in the first week of December. It's unsurprising considering the movie's status as the highest-grossing movie of 2017, and the 1992 animated version's own Academy Awards history. In a crowded Oscars race like this year's, Beauty and the Beast won't likely score a Best Picture nomination – but hey, at least those costumes look pretty.
The Beauty and the Beast re-release is scheduled for December 1 at the AMC Century City in Los Angeles and AMC Empire 25 in New York, for a one-week limited run.
According to the press release, "Members of AMPAS, BAFTA, ACE, ADG, ASC, CAS, DGA, HFPA, MPEG, MPSE, PGA, WGA, CDG and VES will be admitted with a guest to screenings at both theaters with valid membership card." The membership and the limited run indicates that this re-release is clearly catered toward critics, who will be generating the buzz around films that are eligible for film awards, as well as Academy and guild members, who will ultimately be deciding the contenders. But if the general public can't make it out to a screening that week, they probably won't be too miffed — Beauty and the Beast grossed more than $500 million at domestic box offices this year after its April release, and has gone on to rake in more than $1 billion worldwide.
Beauty and the Beast isn't the only major movie vying for an award this year that has received a second limited theatrical run. Dunkirk will fly into 50 IMAX and 70mm locations on December 1, while Wonder Woman was given a late-summer IMAX re-release. There are probably many more re-releases headed our way.
Now the question is what awards categories Beauty and the Beast will jockey for. Costume design is a given, with the film's opulent costumes and dresses becoming one of the remake's saving graces. Set design, to be sure. But like I said before, it won't be able to edge into the crowded Best Picture field which reserves one or two slots for blockbuster films, since those will likely go to Logan, Wonder Woman, or Dunkirk. Though Beauty and the Beast was well-received for a remake, it probably won't receive the esteem that the animated classic did upon its 1992 release — getting a standing ovation when it premiered at the New York Film Festival and receiving a coveted Best Picture nomination back when there were only five slots. The uproar over an animated film getting nominated for Best Picture was so hilariously overblown that eventually the Academy created the Best Animated Feature category.
I would be fine with Beauty and the Beast receiving a plethora of technical awards, but I don't believe it deserves anything above that. Emma Watson was hopelessly miscast and wooden as Belle, while the technology wasn't nearly as advanced as it should have been to depict Dan Stevens' motion-captured Beast. A majority of scenes were replicated shot-for-shot from the animated film, which put into question of why they remade it at all. But Beauty and the Beast still made a ton of money, so it's not surprising that Disney would put it up for awards contention.