'Master And Commander' Sequel Still A Possibility, Says Russell Crowe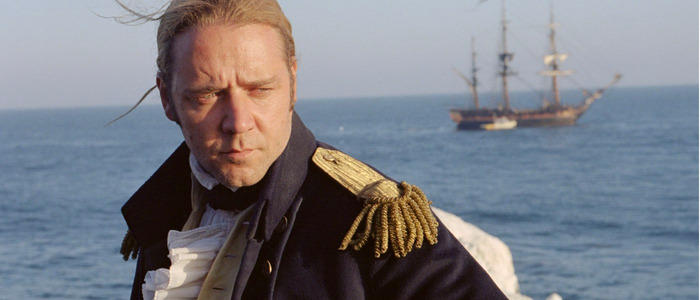 Master and Commander: The Far Side of the World is one of the best films of the 21st century, but not a lot of people saw it. Which is a shame, because the film was an adaptation based on Patrick O'Brian's 20-novel Aubrey-Maturin series, meaning it was ripe to launch an entire series of films. Due to shoddy box office, those follow-up films never came to pass, but now Master and Commander star Russell Crowe has given fans of the film hope. While this seems to be more wishful thinking than a sure thing, any news of a possible Master and Commander sequel is worth paying attention to.
When 20th Century Fox snapped up the rights to Patrick O'Brian's Aubrey-Maturin series of books, the plan was to turn the nautical themed novels into a series of films. But the first entry in the series, Master and Commander: The Far Side of the World, failed to have the impact Fox was hoping for. Master and Commander grossed only $93,927,920 domestically on a reported $150 million budget (per Box Office Mojo). Any hopes of a Master and Commander sequel seemed to have been sunk following the lackluster box office, yet the series may yet sail again.
On his Twitter account, Master and Commander star Russell Crowe teased a possible Master and Commander sequel, and urged fans to voice their desire for further films to 20th Century Fox.
For the Aubrey Maturin lovers , I do hear whispers indeed that a second voyage is perhaps potentially pre-proposed a possibility . So O'Brian affectionate's and aficionados , let @20thcenturyfox know of your pleasure . pic.twitter.com/HqyE8y15Uu

— Russell Crowe (@russellcrowe) November 27, 2017
Crowe seems to be dancing around whether or not a sequel will truly happen, but this is the first potentially positive news related to the series in years, so we'll take it. In Peter Weir's sprawling epic Master and Commander: The Far Side of the World, Crowe played Captain Jack Aubrey of HMS Surprise. While the film is set during the Napoleonic Wars, and features a few battle sequences, it's not really a war film. Instead, it's more of an epic character study, focused on both Crowe's Aubrey and his friendship with the ship's surgeon, Dr. Stephen Maturin (Paul Bettany). It's a truly magnificent film, and it was even nominated for a Best Picture Oscar, but it simply didn't have the box office heat it needed.
With that in mind, I have no idea how much of a market there is for future Master and Commander sequels. I know plenty of people loved Weir's film, and Crowe's tweet seems to be picking up steam. But the series doesn't exactly scream "blockbuster", which can be a problem in the oversaturated film market where most big budget films need to be a big, loud, well-tested property to get a green light. That said, if fan enthusiasm can convince 20th Century Fox to give the go-ahead for another film in the series, modern movies would be the better for it.
In the meantime, if you've somehow avoided seeing Master and Commander: The Far Side of the World, I urge you to check it out. It's currently streaming on HBO Go.