'Star Wars: The Last Jedi' Director And Cast Stopping By 'Jimmy Kimmel Live' On Friday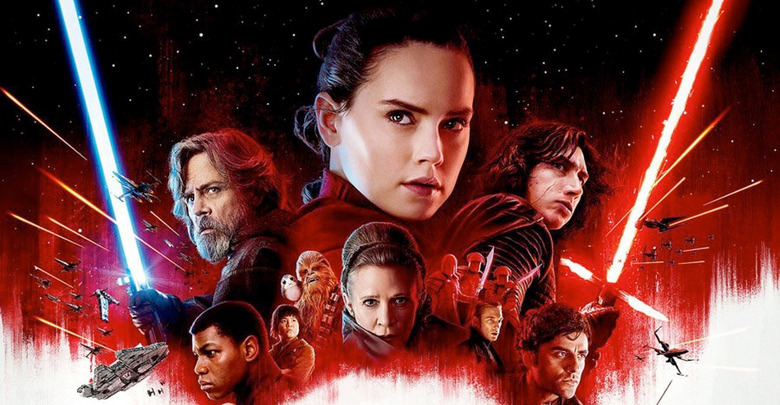 With December just around the corner, we're heading into the home stretch for the marketing machine leading up to the release of Star Wars: The Last Jedi. As more TV spots will be hitting the web, director Rian Johnson and the cast of the next installment of the Star Wars saga will begin making the publicity rounds on all the late night and morning talk shows, and they'll be kicking things off in a familiar place.
Since Disney owns both Lucasfilm and ABC, it should come as no surprise that the director and cast of Star Wars: The Last Jedi will be making their first late night stop on Jimmy Kimmel Live on Friday, December 1. It's bound to be a big Star Wars-centric episode since no less than nine cast members will be in attendance. Get more details about the Star Wars: The Last Jedi Jimmy Kimmel Live episode below.
In ABC's official press release announcing the guests for this week's episodes of Jimmy Kimmel Live, the network revealed that director Rian Johnson will be appearing on the show along with cast members Mark Hamill (Luke Skywalker), Adam Driver (Kylo Ren), Daisy Ridley (Rey), John Boyega (Finn), Oscar Isaac (Poe Dameron), Andy Serkis (Supreme Leader Snoke), Domhnall Gleeson (General Hux), Gwendoline Christie (Captain Phasma), Laura Dern (Vice Admiral Amilyn Holdo), and Kelly Marie Tran (Rose Tico).
When Star Wars: The Force Awakens was coming to theaters, the cast and director J.J. Abrams came to Jimmy Kimmel Live for a special episode where they discussed a myriad of topics. Surely the same will be done for The Last Jedi, and there are far more cast members to talk to this time than there were before. There will probably even be some comedic shenanigans afoot with the cast since Kimmel always likes to have a little fun on the show with his guests.
What we're really hoping for, though, is to see some new footage. There's a good chance that we'll see a new clip or two, but likely nothing that will spoil the movie. If anything good comes out of the Star Wars: The Last Jedi episode of Jimmy Kimmel Live, you can bet we'll be writing about it right away – especially if they bring porgs with them.
Otherwise, stay tuned to see what else comes from the marketing onslaught that will be turning out more and more hype for Star Wars: The Last Jedi as the December 15, 2017 release date gets closer and closer.