'Avengers 4' Will Be A "Finale" For The Current Era Of The Marvel Cinematic Universe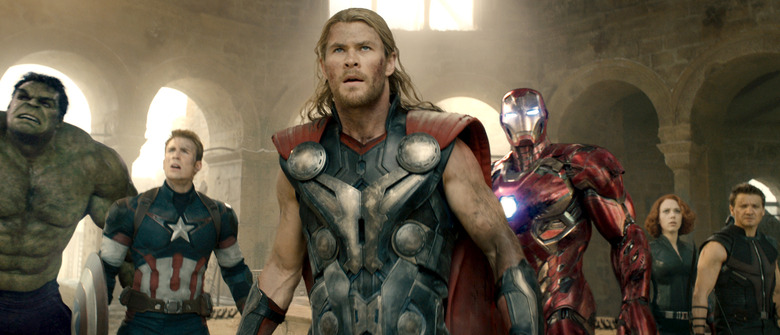 Marvel Studios president Kevin Feige is promising something that the Marvel Cinematic Universe has never really had before: a finale.
From the outside, the MCU's future may seem uncertain, as the comic book movie studio keeps hidden the slate of superhero films that will hit theaters after the climactic Avengers 4. But that doesn't mean that there won't be any superhero movies to follow up the Avengers sequel — far from it. Instead, the MCU will look vastly different after Avengers 4, which Feige promises will be the "finale" of the current era of the MCU and the beginning of a whole new, possibly cosmic, era of films.
The cinematic landscape was forever changed when Samuel L. Jackson emerged from the shadows in the post-credits scene of 2008's Iron Man. We barely had an idea of how far-reaching the Marvel Cinematic Universe would go, as Marvel Studios pumped out solo superhero movie after movie — Thor, Captain America: The First Avenger — finally teaming the heroes up in the game-changing 2012 team-up The Avengers. It was a make-or-break moment, and somehow, it worked. Since then, Hollywood has been blessed (or plagued, depending on how you look at it) by a multitude of cinematic universes. But none of them can yet hold a candle to the ground-breaking MCU.
Vanity Fair took an in-depth dive into the formation of the MCU, and how it came to be the cinematic behemoth we know today. And yet — for a studio that has until now meticulously planned and announced its slate of movies years in advance — the docket looks surprisingly empty after Avengers 4. A Spider-Man: Homecoming sequel here, a Guardians of the Galaxy Vol. 3 there. But trust in Feige, because just as Iron Man shook the world by introducing the MCU, Marvel yet again plans to shake their own universe with mysterious world-altering events in Avengers 4. The MCU as we know it will change. Vanity Fair writes:
Marvel is "22 movies in, and we've got another 20 movies on the docket that are completely different from anything that's come before – intentionally," Feige added. Avengers 4, he said, will "bring things you've never seen in superhero films: a finale. There will be two distinct periods. Everything before Avengers 4 and everything after. I know it will not be in ways people are expecting."
This may be a finale, but it seems like it's also a midway point. 20 more movies planned! That's a whole new decade dominated by Marvel movies! Of course, we're not quite there yet, with Avengers: Infinity War still set to hit theaters on May 4, 2018. Vanity Fair also published peeks at the heroes in costume for Infinity War, which you can see below.
After a decade of unprecedented success, @MarvelStudios is at a pivotal moment: the looming farewell to some of its founding superheroes, and the rise of a new generation. https://t.co/JoKFAtWZA5 pic.twitter.com/ed9u2kiNQx

— VANITY FAIR (@VanityFair) November 27, 2017
We already knew that Guardians of the Galaxy director James Gunn is helping to spearhead what we've been calling the Marvel Cosmic Universe, which will reportedly be kickstarted by Guardians of the Galaxy Vol. 3. The MCU will reportedly expand beyond the cosmic realms that movies like Guardians and Thor: Ragnarok already visited.
Disney CEO Bob Iger explains the scope of what he and Marvel Studios are hoping for, saying, "We're looking for worlds that are completely separate—geographically or in time—from the worlds that we've already visited," and mentioning the 7,000 characters to which Marvel Studios holds the rights and their cinematic potential.
Additionally, on the heels of the Vanity Fair cover story — as well as an unwelcome leak of Avengers: Infinity War footage during the holiday weekend — directors Joe and Anthony Russo have posted a cryptic image of the number 3, possibly hinting at the imminent release of an Avengers: Infinity War trailer. It's uncertain whether this means the trailer will drop in three days or on December 3, or whether the Russo Brothers just really like that picture of a number 3.
So what will the future of the MCU look like? It's still uncertain, but the one thing we do know is that a Marvel Cinematic Universe end is not in sight, and won't be for a long time.