Get The Official First Look At Joe Manganiello As Deathstroke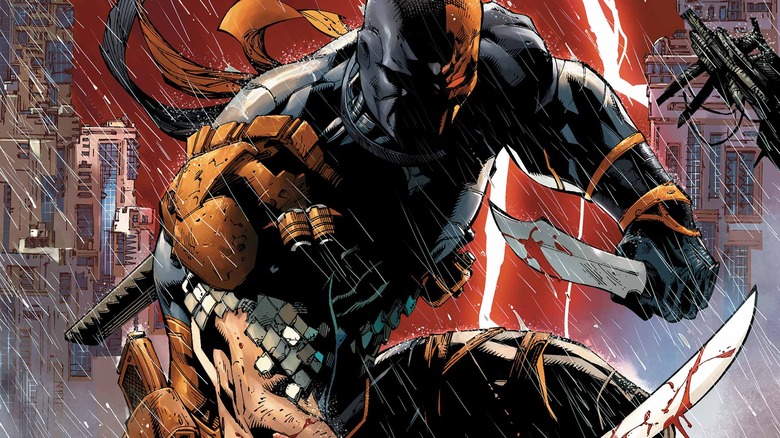 Deathstroke is coming to the DCEU.
Fans who stuck around for the Justice League post-credits scene may have gotten a hint of this — as well as those who have been following the superhero news circuit with the announcement of a Deathstroke solo film — but they can now see the first official image of the DC Comics villain courtesy of Joe Manganiello, the actor who will be portraying the merciless mercenary.
Until this weekend, fans would have had to be content with blurry photos of Deathstroke taken secretly during the Justice League post-credits stinger, which depicted the mercenary boarding a luxury yacht owned by a newly-escaped Lex Luthor (Jesse Eisenberg), who speaks to him by concernedly about the formation of the team of superheroes. "Why don't we make a league of our own?" Luthor suggests to him.
But Manganiello dropped a welcome surprise on Saturday, tweeting out a high resolution Deathstroke first image of himself clad in Slade Wilson's signature orange and black armor, boasting an eye patch and helmet as well as a peek of a sword behind him.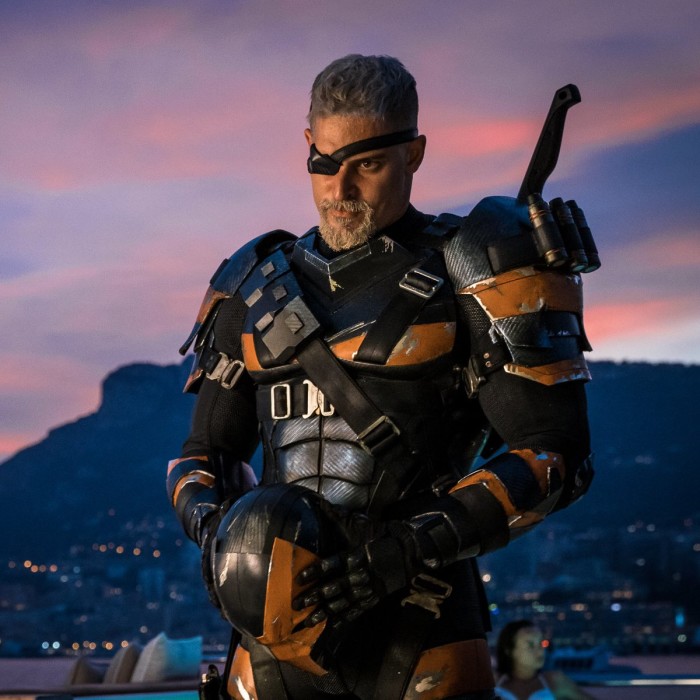 The image received a seal of approval from the character's co-creator, Marv Wolfman, who in a Facebook post praised Manganiello for looking "like he stepped right out of the pages of New Teen Titans." He continues:
Over a week has passed so I think I can safely post this. If you haven't yet seen Justice League, make sure you do. And stay to the very, very end. Photo courtesy of Joe Manganiello who looks like he stepped right out of the pages of New Teen Titans. Does he look perfect or what? Cannot wait to see where he appears next.
Deathstroke was originally the archenemy of the Teen Titans, often sparring with Robin-turned-Nightwing, but has lately made his way to the big leagues by becoming a foe to Batman and the Justice League — even headlining his own title. Iterations of the character have appeared in CW's Arrow (played by Manu Bennet) as well as multiple Warner Bros. animated outings such as Young Justice and Teen Titans. 
But his debut in the DCEU took place during the Justice League post-credits scene, which has been revealed to be directed by none other than Justice League director Zack Snyder. There was chatter that Snyder was done with the DCEU after he left the superhero ensemble movie due to a family tragedy, with Joss Whedon taking the director's chair for reshoots. But it looks like Snyder was available to return for one last post-credits stinger, as evidenced by a photo posted on Snyder's Vero account showing him on the set of the post-credits scene. (Whether that hints that the mythical Snyder cut of Justice League is floating around is yet to be seen.)
Yes, Zack Snyder directed the #JusticeLeague post-credit scene. pic.twitter.com/JvJxaJvHnr

— Umberto Gonzalez (@elmayimbe) November 25, 2017
Deathstroke was initially going to make his next appearance in Matt Reeves' The Batman film, though that's up in the air after the original script by Ben Affleck, Chris Terrio, and Geoff Johns was scrapped by the director. But hope is not lost for the sword-wielding mercenary: he's already set to get his own solo film from The Raid director Gareth Evans.