'Mystery Science Theater 3000: The Return' Gets A Second Season Order At Netflix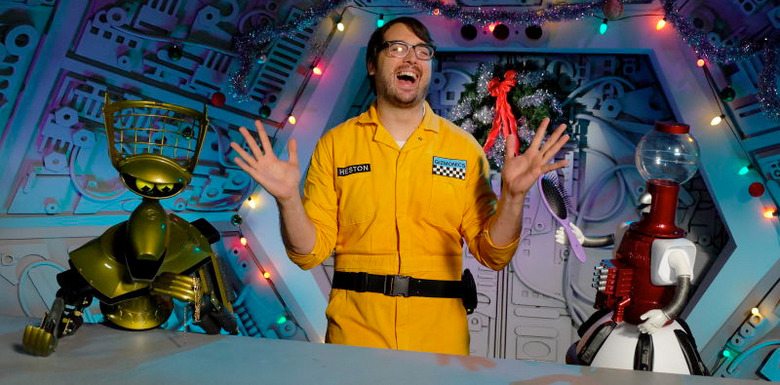 It was a bit of a miracle that the cult favorite movie mocking series Mystery Science Theater 3000 ended up finding a new home at Netflix after a successful crowdfunding campaign paid for an entire season of new episodes 18 years after the series had ended.  The series revival brought comedian Jonah Ray on board as the new human host trapped with a couple of wisecracking robots by a pair of mad scientists who are forcing them to watch some of the worst movies ever made. And now we're going to get even more
During the annual Mystery Science Theater 3000 Thanksgiving marathon, some surprise news came from hosts Joel Hodgson, Jonah Ray and Felicia Day with the announcement that Mystery Science Theater 3000: The Return season 2 had officially been ordered by Netflix. Happy Thanksgiving, indeed!
Mystery Science Theater 3000: The Return Season 2 Announcement
Though this is only the second season of the revived version of Mystery Science Theater 3000, overall this will be the 12th season of the beloved series. That's not bad for a series that began as a local show on a Minneapolis, Minnesota broadcast affiliate, jumped to Comedy Central and then the Sci-Fi Channel before coming to an end after 197 episodes.
As of now, there's no indication as to how many episodes will be part of the second season, or when the new season will debut on Netflix. But the first season of the revival debuted last spring with 14 episodes, so it would stand to reason that the show could come back as early as the spring of 2018 if we're lucky. There might be fewer episodes though since the only reason there were 14 episodes in the first season is because fans raised so much money that they were able to afford a couple extra episodes. Netflix has plenty of money to throw at their original programming, but they might like a more traditional number like 12 episodes.
As for what movies the crew aboard the Satellite Love might be forced to watch in the new season, there's a chance we might know of one already. During the live show I attended this past summer, Jonah Ray, Crow T. Robot and Tom Servo were forced to watch the English-language, Italian-made superhero movie Argoman the Fantastic Superman as part of the super secret show that only screened in some select cities. It was the first time they had ever made fun of the movie from 1967, and I can't imagine them letting it go to waste with a whole new season of shows ahead of them.
Anyway, it's early days for the new season of Mystery Science Theater 3000: The Return. I'm just glad that we'll be getting more episodes of this hilarious series.