Amazon's 'Too Old To Die Young' Cast Revealed By Director Nicolas Winding Refn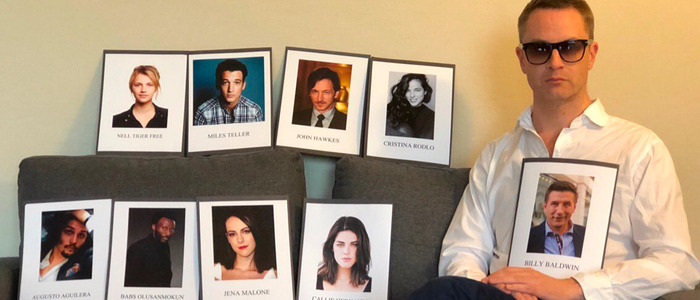 Stylish, divisive filmmaker Nicolas Winding Refn is making the leap from the big screen to the small with the upcoming Amazon series Too Old to Die Young, and Refn recently took to Twitter to announce his full cast. The Amazon series, which finds Refn teaming with comic book writer Ed Brubaker, is described as a crime thriller that will "explore various characters' existential journeys from being killers to becoming samurai in the city of angels." The full Too Old to Die Young cast is revealed below.
Love him or hate him, you have to admit Nicolas Winding Refn knows how to push people's buttons. The Drive and Neon Demon director specializes in lurid, pulpy, stylish stories filled with bursts of disturbing violence, and now he's bringing his signature style to Amazon with the series Too Old to Die Young. Whiplash's Miles Teller had previously been announced as the lead of the series, and now we have a full cast list to deal with. Refn took to Twitter to pose with a series of photos of his Too Old to Die Young cast. Check it out:
Dear Friend, Meet the cast of Too Old To Die Young..! ❤️👁🔻 pic.twitter.com/X0te3XhceP

— Nicolas Winding Refn (@NicolasWR) November 21, 2017
In addition to Teller, the series will feature Backdraft's William "Billy" Baldwin (who gets the place of honor in the Twitter photo, perched on Refn's lap), Jena Malone (who worked with Refn in Neon Demon), John Hawkes (Three Billboards Outside Ebbing, Missouri), Cristina Rodlo (The Condemned), Augusto Aguilera (the upcoming The Predator), Nell Tiger Free (Game of Thrones), Babs Olusanmokun (The Defenders) and Callie Hernandez (Alien: Covenant). Of all these cast members, Malone and Hawkes are the most exciting. Malone was fantastic in Refn's Neon Demon, and I can't wait to see her work with him again. And Hawkes is one of those great character actors, delivering a stellar performance no matter what production he's a part of.
Too Old to Die Young will have Refn teaming with comic book writer Ed Brubaker, who has tended to specialize in crime stories, including The Fade Out, Fatale, and the really cool Batman title Gotham Central. Full details about the Refn-Brubaker series are still a guarded secret, but so far we've heard the show described as being set in the "criminal underbelly" of Los Angeles. Teller will be playing a cop Martin, who is mourning the murder of his partner. Martin and his partner's killer soon find themselves mixed-up in a wild drama involving Yakuza soldiers, cartel assassins, the Russian mob, gangs of teenage murderers. Refn will direct the entire series.
Too Old to Die Young is expected to premiere on Amazon in 2018.