Why Rian Johnson Is Excited About His New 'Star Wars' Trilogy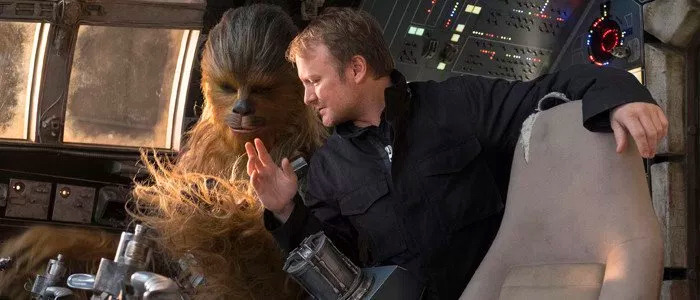 Rian Johnson has Star Wars: The Last Jedi hitting theaters in less than a month, but the filmmaker is already looking toward the future. It was recently announced that Johnson would be writing and directing a new Star Wars trilogy set outside the still-ongoing Skywalker saga. It will be a trilogy of films that opens up the Star Wars universe in ways we've never seen before. We won't see Johnson's new trilogy for a few years, but that hasn't stopped the director from revealing new Star Wars trilogy details.
When word broke that Rian Johnson would be creating a new Star Wars trilogy, the Star Wars fandom breathed a sigh of relief. Clearly, this was a sign that Johnson had impressed Disney and Lucasfilm with whatever it is he did with The Last Jedi. They're so impressed that they're giving him the chance to take the Star Wars series off into an entirely new direction – one that's not focused on the Skywalkers or serving as a prequel the way the Star Wars anthology films have so far. Details about Johnson's new trilogy are still under-wraps, but at a press event in Mexico for The Last Jedi (via MovieWeb), Johnson revealed what excites him most about his new trilogy:
"I'm just in the very beginning of starting to come up with what the new trilogy is going to be. What makes me so excited about it, is the idea of doing a new story on the big canvas of three movies in this world. There's just so much potential and I can't wait to jump into it."
This echoes what Lucasfilm President Kathleen Kennedy had to say in the official press release announcing the new trilogy: "Rian will do amazing things with the blank canvas of this new trilogy." Going forward, the selling-point for this new Star Wars trilogy is clearly going to be on new, exciting possibilities. While some fans may want more adventures set within the still-going timeline that will be featured in The Last Jedi, opening up the Star Wars galaxy is a great idea. This is exactly what I thought was going to happen when Disney and Lucasfilm first announced they would be doing the Star Wars spin-off films: they would tell new, exciting stories. But so far, the spin-off movies have been frustratingly fixed within established boundaries: Rogue One was essentially a prequel to A New Hope, and the upcoming Solo is going to re-introduce us to Han Solo, a character we've already met countless times.
Johnson's new Star Wars trilogy, on the other hand, has limitless possibilities. There's an entire galaxy out there, and I can't wait to see what a talented, inventive filmmaker like Rian Johnson does with it.
In the meantime, we have The Last Jedi to obsess over. Speaking of which, here's a brand-new TV spot for the film, which features a scene where Chewbacca rudely pushes a Porg away. Chewie, how could you? I thought you and the Porgs were friends.
Star Wars: The Last Jedi opens on December 15, 2017.