Cool Stuff: Hot Toys Reveals Kylo Ren's Life-Size Burnt Darth Vader Helmet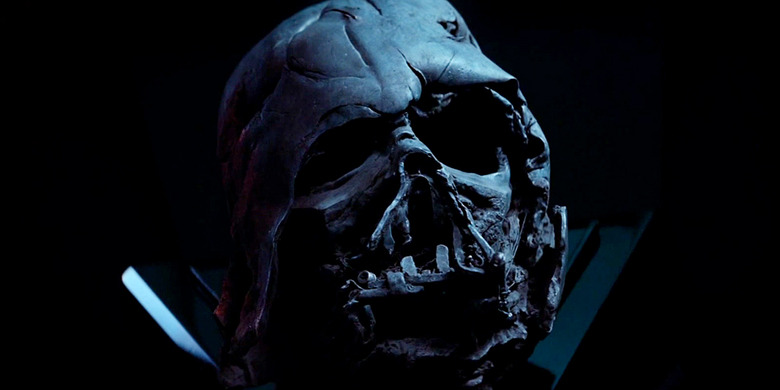 Perhaps one of the most coveted collectibles for Star Wars fans is the helmet of Darth Vader. It's the signature accessory of one of the most iconic villains that the big screen has ever seen. And if you worship Darth Vader as much as his angry grandson Kylo Ren, then Hot Toys has an incredible new collectible that you'll want to get your hands on.
In Star Wars: The Force Awakens, we learn that Kylo Ren keeps the burnt remains of Darth Vader's helmet in his own private chamber. When he's desperate to squash the light that still remains in him, he speaks out to his grandfather for guidance, hoping to finish what the Empire's second in command started decades before. Now you can call out to the spirit of the Dark Lord of the Sith yourself with a burnt Darth Vader helmet replica coming soon.
Here's the image Hot Toys released on Facebook to announce the burnt Darth Vader helmet replica: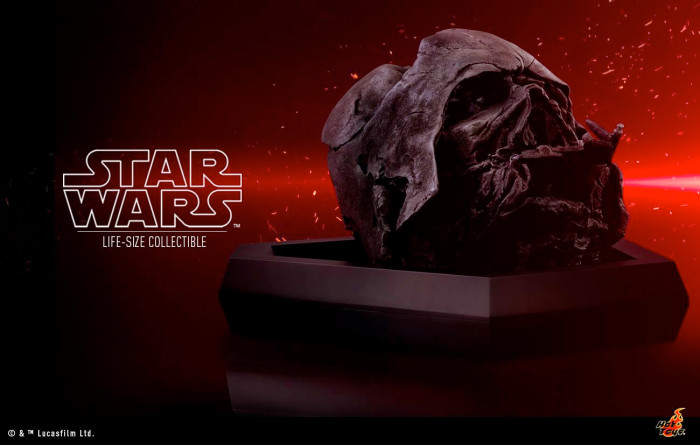 The burnt Darth Vader helmet is a life-size replica, and since it's coming from Hot Toys, you know it will be of the highest quality with meticulous attention to detail. Unfortunately, it doesn't appear to come with the sleek, shiny triangular base that we see it displayed on in The Force Awakens, but surely any dedicated fan can make one of those themselves.
You might remember that Disney and Lucasfilm planned on making a burnt Darth Vader helmet replica back in the summer of 2016 as part of their Star Wars Collectibles: Ultimate Studio Edition line-up. At that time, the helmet was slated to cost $3,500, and that salty price tag resulted in low interest from fans, which resulted in the entire line being canceled. So let's just hope the Hot Toys version of the burnt Darth Vader helmet doesn't cost quite so much.
As of now, we don't have a price tag or even a release date, but at least we know this awesome collectible is on the way and isn't likely to get canceled this time. As soon as any more details become available, we'll let you know.