New 'Watchmen' TV Show Details Revealed By Damon Lindelof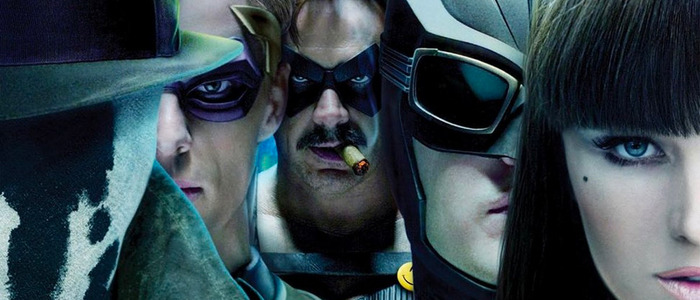 Alan Moore and Dave Gibbons' iconic superhero comic Watchmen is currently in the process of being developed as an HBO series. Lost and The Leftovers' Damon Lindelof has been working behind-the-scenes on the series for over a month now. Lindelof recently spoke about the project, and gave his reasoning behind the new Watchman TV show adaptation.
Zack Snyder turned the highly influential comic series Watchmen into a big screen extravaganza in 2009, with mixed results. While Snyder stuck obsessively to the source material (except for the ending), the film wasn't entirely successful with fans or at the box office. Now Lindelof will try to adapt Watchmen, this time for TV. HBO ordered a Watchmen TV pilot back in September, and Lindelof has been tasked with bringing it to life. Lindelof recently spoke at Vulture Vest (via IndieWire) about the project and explained why he thinks a new Watchmen adaptation is important.
Lindelof says that when he first read Moore's graphic novel, it felt "dangerous", and that feeling played a big part in his decision to tackle the material:
"The reason I'm doing this is because these are dangerous times and we need dangerous shows. What we think about superheroes is wrong."
Lindelof went on to say that people should be naturally suspicious of superheroes: "I'm all for Wonder Woman and Batman. I grew up on these characters. I love these characters. But we should not trust people who put on masks and say they are looking out for us. If you hide your face you are up to no good."
In the past, Lindelof has also expressed his thoughts on Snyder's film adaptation, saying that he thought the Batman v Superman director did the best he could within the confines of the medium of film:
"I think it's a very complicated question. You almost can't judge the movie purely as a movie because of its relation to the fact that it is an adaptation of the graphic novel. That being said I think that Zack Snyder made the best possible movie adaptation considering the fact that he was really out to not revise things, the fans really wanted a literal adaptation. That's exactly what he delivered. He delivered that with an incredible amount of grace and skill. But I think that, for those of us who basically said "How do you do Watchmen in a two and a half hour movie?" He has now answered: "This is how". You just have to kind of leave it at that. Over time, I think history will basically tell whether the movie was brilliant or less than, but all I can say is how incredibly impressed I personally watching what Zack had accomplished."
Lindelof is talented, and I'm curious to see what his take on Watchmen will be like, but I also can't help but worry that it sounds like he wants to take superheroes back to the dark and gritty world they've been trying to claw their way out of for the last few years. Watchmen's take on dark and dangerous heroes felt unique and trend-setting at the time, but since then, we've had a wealth of superhero films and shows that give us dark, angry, violent characters. Only recently have heroes begun to seem hopeful again, and hope is something we could all use a lot more of these days. To backslide into the grim/dark territory doesn't sound too promising. Time will tell how Lindelof's Watchmen TV show turns out.