'El Camino Christmas' Trailer: Netflix Gets In The Spirit Of The Season With A Holiday Hostage Comedy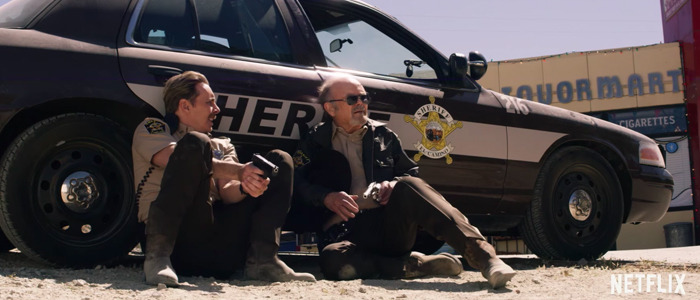 Leave it to Netflix to drop a trailer for a movie I've never heard of that's coming out in just over two weeks. While Thanksgiving is upon us now, the streaming service is pushing ahead and getting into the holiday spirit by releasing a trailer for a film called El Camino Christmas. It's a small-scale hostage comedy that looks like the type of rough-hewn romp that could provide a bit of levity right now – which sounds like a gift we all can be thankful for.
The movie hails from director David E. Talbert, who knows a thing or two about making a movie set during the holiday season: his most recent film was the 2016 family comedy Almost Christmas.
El Camino Christmas trailer
Luke Grimes, Dax Shepard, Kurtwood Smith, Vincent D'Onofrio, Michelle Mylatt, Jessica Alba, and Tim Allen star. I don't mean to be mean, but is Alba supposed to be playing a news anchor who's terrible at reading lines on camera? Or is that her legitimate delivery? It's been so long since I've seen her in anything, it's hard to tell. But the pairing of Shepard and Smith could yield some nice comedic results, and D'Onofrio looks like he's fully committing to a performance full of physical humor, so at least those parts ought to have something to offer. The idea of Grimes (The Magnificent Seven, Fifty Shades of Grey) being able to anchor the story with some drama about finding his lost father seems slightly more challenging based on this trailer, but I'm not ready to write it off as impossible just yet.
It's also kind of interesting to see Tim Allen play against his Christmas past (he's the star of The Santa Clause franchise, if you'll recall) as a cranky, Christmas-hating sourpuss here. And the movie's pressure cooker scenario might end up serving as a metaphor for what the holiday season is like for much of its audience: being dropped into close quarters with family members (some of whom we barely know) and being forced to come face to face with differences in opinion.
Ted Melfi (who directed Hidden Figures) and newcomer Christopher Wehner partnered up to write the script. Here's the film's official one-line synopsis:
A drifter, a drunk, a deputy, a reporter and a single mom are about to experience a wild Christmas they never saw coming.
El Camino Christmas arrives on Netflix on December 8, 2017.