'Captain Marvel' Casts Jude Law As The Original Captain Marvel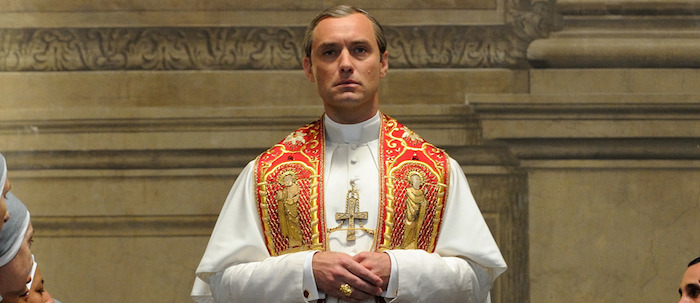 Jude Law is joining the Marvel Cinematic Universe. The actor will star opposite Brie Larson in the upcoming Captain Marvel. Details on Law's role are slim, but reports say he'll be playing Mar-Vell, the original Captain Marvel and a mentor to Larson's Carol Danvers. Here's everything we know about the Jude Law Captain Marvel casting
The Marvel Cinematic Universe has done a very good job casting their movies, frequently hiring exciting, talented actors to take part in their seemingly never-ending quest for superhero movie dominance. That trend continues now with the addition of Jude Law, who has apparently just landed the male lead opposite Brie Larson in Captain Marvel. Variety reports Law is in negotiations to join the film, which will be directed by Anna Boden and Ryan Fleck.
This is the second big franchise Law has joined recently – he is also playing the young Albus Dumbledore in Fantastic Beasts: The Crimes of Grindelwald.
Brie Larson will be playing Air Force pilot Carol Danvers, who suddenly finds herself bestowed with superpowers in the first female-led film in the MCU. Marvel didn't comment on Variety's story, but the trade reports that Law is playing Dr. Walter Lawson, one of Carol's co-workers in the comics who was actually secretly a Kree agent named Mar-Vell assuming Lawson's identity. Mar-Vell was the original Captain Marvel who passed his superpower-laced DNA onto Carol, helping her become the new Captain Marvel (but she was Ms. Marvel at first, because comics are confusing).
We already knew the Kree, an alien race who made their initial MCU appearance in Guardians of the Galaxy, figure into the plot and there were early rumors that Mar-Vell might appear in the film, so this all checks out. The cast will also feature Samuel L. Jackson, once again returning as Nick Fury. Ben Mendelsohn had previously been mentioned as only in-talks to play the film's lead, but the Variety story seems to confirm that Mendelsohn is officially on board now.
Beyond this tidbits, details on Captain Marvel are still sketchy. One thing we know for sure: the film is going to be a bit of a prequel for the MCU, set nearly 20 years before the events of the original 2008 Iron Man. Marvel Studios head honcho Kevin Feige told the crowd at Comic-Con earlier this year that the film will be set in the '90s, which indicates that someone is going to be wearing acid wash jeans and listening to Pearl Jam at some point.
Captain Marvel is set for release March 6, 2019.