'Community' Movie Is Still Happening, Dan Harmon Promises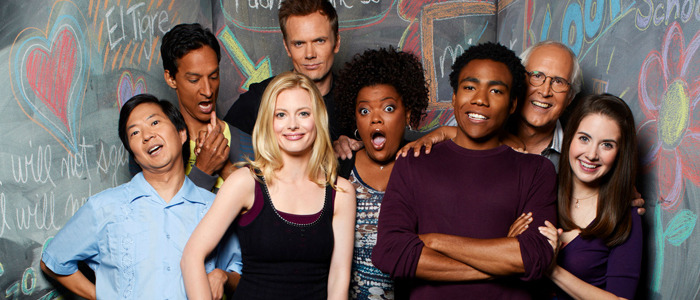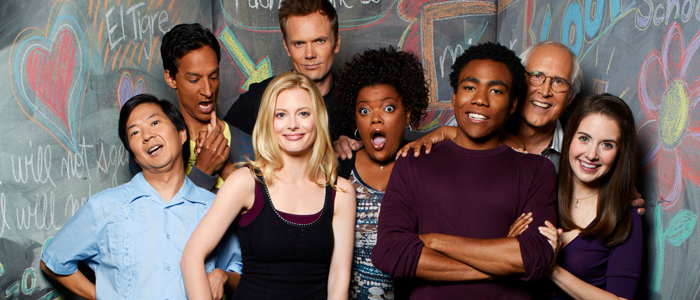 The final episode of Dan Harmon's brilliant sitcom Community aired on Yahoo Screen – an entertainment service that doesn't exist anymore – back in 2015. The show sort of limped across the finish line as it lost key cast members in the lead-up to its finale, and though the series ended with a whimper, the first few seasons are some of the funniest, cleverest, and straight-up best television of the past decade.
Harmon has been talking about making a Community movie for years (remember when #SixSeasonsAndAMovie was a big deal?), but things have been quiet on that front for a while. In a new interview, the showrunner explains that he's been meeting with The Russo Brothers (Avengers: Infinity War) and director Justin Lin (Fast Five) about the possibility of actually making the movie.
Speaking with The Wrap, Harmon said he's still hopeful that a movie adaptation will happen one day, and that hope is based in large part on the friends he has who worked on the show before they became massive blockbuster directors with major Hollywood influence:
"I keep having conversations with the kinds of people that could make it happen. The Russo brothers moved from 'Community' to becoming industry shapers. So did one of our most popular directors, Justin Lin, who directed the first paintball episode."
Harmon said Lin "in particular has always been jazzed about the idea of doing a 'Community' movie":
"I hope I'm not talking out of school by saying that. I'll get together with him every once in a while, or we'll have dinner, and we're talking — we keep trying to figure out how to do this. Those are the kinds of guys, the Russos, plus Justin, plus a humble little me — maybe there is a way to secure the money and the momentum to make something happen. But fingers crossed — don't want to jinx it."
Last year, Harmon was quoted as saying "It'll happen" when asked about an eventual Community film, so it seems like he's still optimistic about it. The show's original cast – Joel McHale, Yvette Nicole Brown, Danny Pudi, Alison Brie, Gillian Jacobs, Chevy Chase, and Donald Glover – have all been pretty consistently busy over the past few years (some more than others). There's no telling when Harmon and company might be able to wrangle all of their schedules to get them back together for a movie, nor any guarantee that the magic of those first few seasons would be recaptured. There was a time when I wanted to see a Community movie more than just about anything else, but after some separation and time away from the show, I think it's probably best to let this one go.
But it sounds as if Harmon is committed to doing it in one form or another. In 2014, Harmon explained in an interview that the movie is fated to happen:
"The movie part is the movie part...if the movie has to be made out of clay and duct tape in my basement, then that"s how the movie will be made, because there has to be closure. The title of the book about the show is not 'Community: An Interesting Journey into a Show No One Ever Watched.' The title of the book is obviously going to be, 'Six Seasons and a Movie.' So it's already over. Sometimes our hands are just tied up in fate."
Best of luck, Mr. Harmon. You managed the Herculean task of getting the show to last for six seasons, so I suppose going the distance and making a movie doesn't seem that far-fetched. While I can't personally envision a world in which Donald Glover would return for something like that at this point in his exploding career, I also can't deny the thrill I'd get from seeing him and Pudi reunite on screen, because those guys were just the best.