'Star Wars: The Last Jedi' Tracking For A Sky-High $200 Million Opening Weekend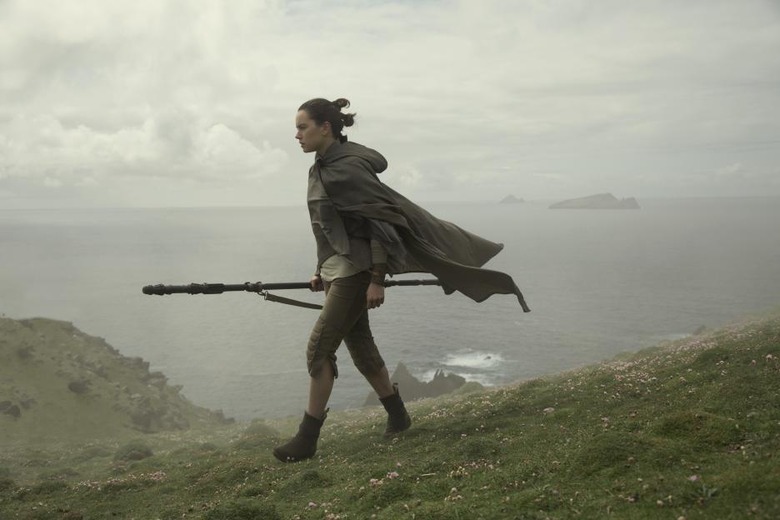 The opening weekend haul for Rian Johnson's upcoming Star Wars: The Last Jedi may well be the Jedi Knight swooping in to rescue an ailing box office, which has seen steadily decreasing numbers since the summer.
Early Star Wars: The Last Jedi box office tracking numbers predict that the sci-fi sequel will make $200 million-plus debut at the domestic box office, which is a milestone that only three other blockbusters have been able to achieve — one of which was a previous Star Wars film.
The estimated $200-million-plus opening weekend number would make Star Wars: The Last Jedi's part of an elite $200 million club that only boasts three other members: Star Wars: The Force Awakens ($248 million), Jurassic World ($208.8 million), and The Avengers ($207.4 million).
In 2015, The Force Awakens set records as the highest-grossing domestic debut in history, but could Episode 8 outgross it? It's possible. Even the standalone Star Wars film Rogue One: A Star Wars Story, which was only loosely connected the core storyline, opened to a whopping $155.1 million in 2016. As the highly anticipated follow-up to J.J. Abrams' franchise-rejuvenating The Force Awakens, The Last Jedi could feasibly shoot beyond those record-shattering opening numbers. It helps too that Disney seems to be heavily banking on Johnson, entrusting the director with a brand new Star Wars trilogy planned for after the current trilogy ends with Abrams' Episode 9.
Industry insiders also expect that Star Wars: The Last Jedi will surpass Disney's Beauty and the Beast ($174.8 million) as the highest-grossing opening this year, according to The Hollywood Reporter.
The Last Jedi could provide a welcome boost to an ailing box office, which has seen steadily decreasing numbers as many fall tentpoles — aside from the record-breaking It and Thor: Ragnarok — have disappointed. This follows a stagnant summer movie season, which alarmed industry executives so much that it sparked the ongoing war against Rotten Tomatoes.Star Wars: The Last Jedi is directed by Rian Johnson and starring Mark Hamill, Carrie Fisher, Adam Driver, Daisy Ridley, John Boyega, Oscar Isaac, Andy Serkis, Lupita Nyong'o, Domhnall Gleeson, Anthony Daniels, Gwendoline Christie, Kelly Marie Tran, Laura Dern, and Benicio del Toro.
Rey develops her newly discovered abilities with the guidance of Luke Skywalker, who is unsettled by the strength of her powers. Meanwhile, the Resistance prepares to do battle with the First Order.
Star Wars: The Last Jedi is set to hit theaters on December 15, 2017.