'12 Strong' Trailer: Chris Hemsworth Rides Into Battle Against The Taliban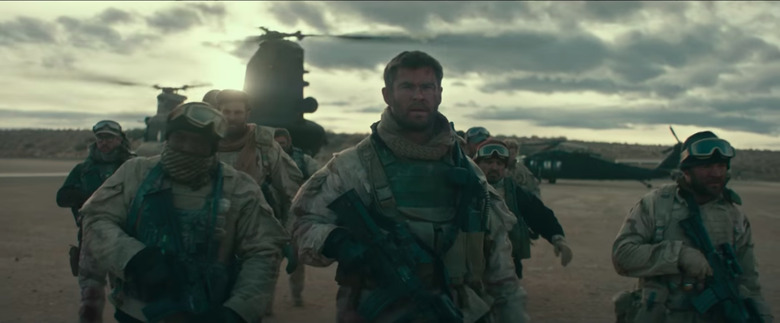 We may receive a commission on purchases made from links.
In the 12 Strong trailer, one of the things the soldiers carries into the hunt for the Taliban is a piece of rubble from the Sept. 11, 2001 attacks. "This is from the towers. You carry that with you," William Fichtner's Colonel Mulholland solemnly declares as he hands the small piece to Chris Hemsworth's Captain Mitch Nelson.
And with that, Nelson and his U.S. Special Forces team are given "a reason why" they're fighting the good fight, engaging in a mission to track down Taliban and Al Qaeda terrorists in Afghanistan.
12 Strong Trailer
Based on a true story, 12 Strong follows Task Force Dagger, a team of 12 CIA paramilitary officers and a US Special Forces who are sent to Aghanistan to go into battle against the Taliban. Fresh off the success of his comedic superhero turn in Thor: Ragnarok, Hemsworth finds himself at the head of a new team (no, not the Revengers) including Michael Shannon, Michael Pena, and Trevante Rhodes of Moonlight fame, as they take on a partnership with the Northern Alliance. But after making the uneasy deal, the team is handed a shock: they'll be riding horses into battle.
Other than providing the movie with a clunky and somewhat humorous subtitle, The Declassified True Story of the Horse Soldiers, this twist gives the movie a bit of levity, as one of the soldiers confesses that he's only ever ridden a horse while black out drunk on spring break, and their commanding officers are aghast at the notion of American soldiers on horseback. But some things are stranger than fiction.
Based on Doug Stanton's acclaimed non-fiction book Horse Soldiers, 12 Strong is directed by Danish filmmaker Nicolai Fuglsig, making his American directing debut with a script by Ted Tally (Silence of the Lambs) and Peter Craig (The Hunger Games: Mockingjay). Rounding out the cast are Geoff Stults (Only the Brave), Thad Luckinbill (The Young and the Restless), Austin Stowell (Bridge of Spies), Ben O'Toole (Hacksaw Ridge), Austin Hebert (Jack Reacher: Never Go Back), Kenneth Miller (Whiskey Tango Fotxtrot), Kenny Sheard (13 Hours) and Jack Kesy (The Strain).
Here's the official synopsis for 12 Strong:
In the wake of Sept. 11, Capt. Mitch Nelson leads a U.S. Special Forces team into Afghanistan for an extremely dangerous mission. Once there, the soldiers develop an uneasy partnership with the Northern Alliance to take down the Taliban and its al-Qaida allies. Outgunned and outnumbered, Nelson and his forces face overwhelming odds in a fight against a ruthless enemy that takes no prisoners.
12 Strong gallops into theaters on January 19, 2018.