'Olaf's Frozen Adventure' Music Video Released; Could This Be The New "Let It Go"?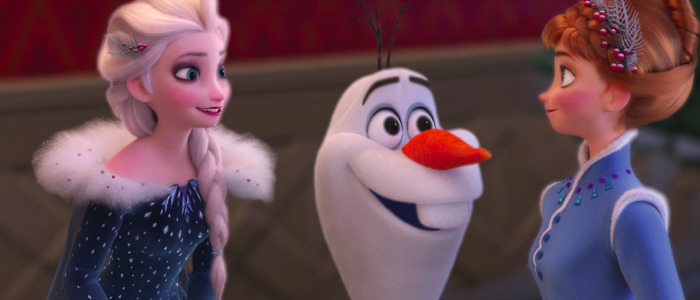 When Frozen was released in 2013, it became a smash hit on a scale that caught Walt Disney Animation by surprise. Part of the reason for its success was the movie's soundtrack, which was full of catchy and memorable songs – chief among them being "Let It Go," the movie's most show-stopping musical number. It remains to be seen whether the upcoming Frozen 2 will produce a song that's on that same level, but Olaf's Frozen Adventure – Disney's new holiday featurette that continues the Frozen story – certainly tries with "When We're Together," a new song that's gunning for the top spot on your holiday playlists this season. Check out the official lyric video below.
When We're Together video
As you can see, the video includes stills from the short featurette with the lyrics superimposed over the top. While this song doesn't have the pure power of "Let It Go," it's undeniably catchy and I can easily see it becoming a perennial holiday favorite for many.
While the original movie's music was written and composed by the husband and wife songwriting team of Robert and Kristen-Anderson Lopez, "When We're Together" and the rest of the original songs from Olaf's Frozen Adventure were crafted by Elyssa Samsel and Kate Anderson. The Lopez's won an Oscar for Best Song for "Let It Go," so it'll be tough for these up-and-comers to match that. When I asked producer Roy Conli about living up to the music of the 2013 film in a recent interview, he told me:
It was great, because once Kate and Elyssa came on and started writing, literally for me, "When We're Together," the last song [in the featurette], when we heard that song, the pressure was off. Because they somehow captured such an emotional core to what we were trying to achieve. What I love about the featurette is that it has not only humor, but it has a lot of heart. That's the core of it, in a sense. I think [co directors] Kevin and Stevie set out not to just make a little piece from Frozen, but to further that world and get deeper into the characters. With Kate and Elyssa's songs, I think we did that.
The 20-plus minute Olaf's Frozen Adventure debuts in theaters in front of Pixar's new movie Coco, which arrives on November 22, 2017 in time for Thanksgiving.