'Film Stars Don't Die In Liverpool' Trailer: Annette Bening Plays Gloria Grahame In This Hollywood Story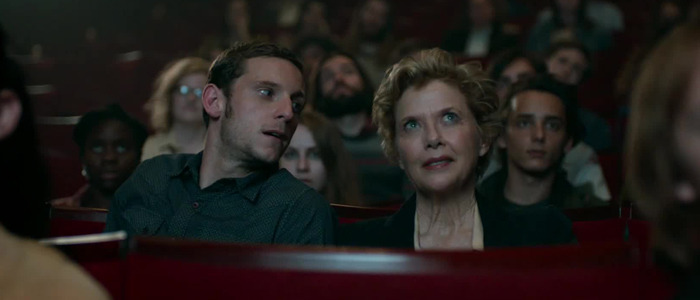 Hollywood loves stories about old Hollywood, and now a veteran actress is getting a chance to shine in a true tale about an aging movie star. Film Stars Don't Die in Liverpool tells the story of the romance between British actor Peter Turner (Jamie Bell) and Oscar-winning actress Gloria Grahame, played here by Annette Bening. While Grahame won a trophy for her work in The Bad and the Beautiful, could this be Bening's chance to take home the gold?
Film Stars Don't Die in Liverpool trailer
Bening looks mesmerizing as Gloria Grahame, adopting a breathy style of delivery that's completely opposite from the character she played in last year's 20th Century Women, and Jamie Bell, who's been starring in AMC's Revolutionary War series Turn: Washington's Spies for the past few years, does a good job of seeming completely enamored with her. And while the movie's late-in-the-year release may be a signal that Sony Pictures Classics is pushing this as a last minute awards contender for Bening, I wouldn't be surprised if the film's original song from acclaimed musician Elvis Costello gets a nod as well.
For me, though, the most surprising element of this trailer comes at the very end when the director's name is revealed during the credits block: this film hails from Paul McGuigan, the same guy who directed Victor Frankenstein a couple of years ago. But don't let that single credit scare you off: he's also directed some episodes of Netflix's Luke Cage, the pilot of the BBC series Sherlock (and a few other episodes of that series to boot), and the 2007 movie Lucky Number Slevin, a slick and twisty crime thriller that I'll go to bat for any day of the week. This seems like the calmest project he's made in years (maybe ever), so I'll be interested to see how McGuigan continues to evolve as a filmmaker in the years to come.
Based on Peter Turner's memoir, the film follows the playful but passionate relationship between Turner (Bell) and the eccentric Academy Award®-winning actress Gloria Grahame (Bening) in 1978 Liverpool. What starts as a vibrant affair between a legendary femme fatale and her young lover quickly grows into a deeper relationship, with Turner being the person Gloria turns to for comfort. Their passion and lust for life is tested to the limits by events beyond their control.
Film Stars Don't Die in Liverpool arrives in theaters on December 29, 2017.