'Gambit' Snags 'Cloverfield' Star Lizzy Caplan As Its Female Lead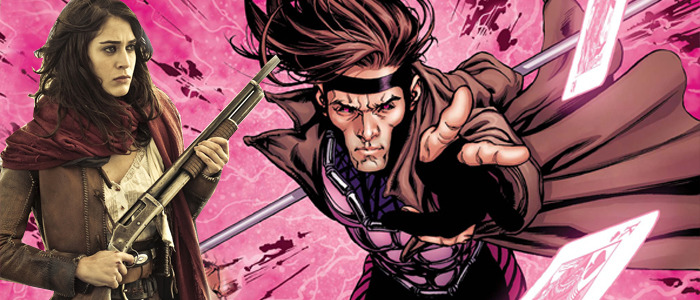 20th Century Fox's Gambit solo movie was originally scheduled to hit theaters over a year ago, but several starts and stops and a revolving door of directors kicked its release back to 2019. And since the movie has just found a director in Gore Verbinski, important casting decisions are happening: Lizzy Caplan, the star of movies like Cloverfield and TV shows like Masters of Sex, has been cast as the film's female lead. But who is she playing?
In case you'd forgotten, Channing Tatum is starring as the title X-Men character, a New Orleans-born mutant thief named Remy LeBeau whose powers include being able to charge objects (most often, playing cards) with explosive energy. Now Variety reports that Caplan is in talks to star alongside him. The outlet says she'll play the female lead, but since plot details are being kept under wraps, they aren't sure which character Caplan would inhabit (assuming her deal goes through).
However, we've heard enough early plot rumors to hazard a guess: Caplan is most likely playing Bella Donna Boudreaux, a fellow mutant who meets Gambit when they're both young. He's a member of a Thief Guild, she's a member of a rival Assassin Guild...there's a whole Romeo & Juliet thing going on. If this is indeed the film's lead female character, I can see Caplan as a convincing player in that world. I'd have loved to see the producers (Tatum included) choose to open things up a bit and get a bit more diverse in their casting – think Zazie Beetz as Domino in Deadpool 2, a role Caplan coincidentally auditioned for – but I think Caplan is a talented actress who has the physicality to pull this off. I don't think I've specifically heard her do that distinctive Nawlins accent before, but if Tatum can pull it off, so can she. (PSA: seek out Party Down if you haven't seen that show yet. Caplan is excellent in it.)
After filmmakers like Rupert Wyatt (Rise of the Planet of the Apes) and Doug Liman (The Bourne Identity, Edge of Tomorrow) passed on the directing job, we recently heard that Pirates of the Caribbean director Gore Verbinski was in talks to join. Now Variety confirms that Verbinski will be behind the camera, marking his first superhero movie. Again, I'd love to see a newer, more exciting voice given an opportunity on a sexy thriller heist movie like this, but if they were insistent on going with someone more established, at least Verbinski is a visually inventive storyteller who seems like he can bring something interesting to the table.
Gambit is now slated to hit theaters on February 14, 2019.