'Phantom Thread' Trailer Announces Sneak Previews In Los Angeles And New York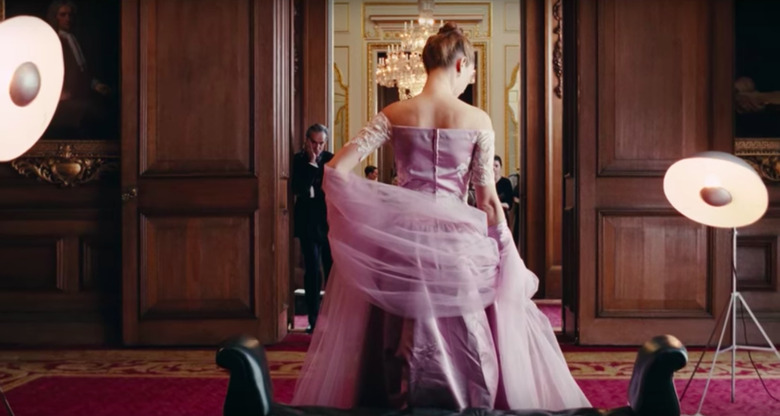 Just as suddenly as Paul Thomas Anderson's mystery movie dropped its title and released a trailer, it is announcing special sneak preview screenings to be held in Los Angeles and New York.
Phantom Thread reunites star Daniel Day-Lewis' with Anderson a decade after their award-winning masterpiece There Will be Blood, and carries the additional burden of reportedly being Day-Lewis' last film before his retirement — hence the air of intrigue and anticipation around this film. And it seems like Focus Features is tapping into that anticipation, announcing seven exclusive screenings in the two cities in late November, a month before the film's limited release.
Phantom Thread Trailer and Sneak Preview Announcement
Like the first evocative and compelling trailer, this one-minute preview is very much a tonal poem, cutting together cryptic and context-free shots of the film, set to a haunting orchestral score. But a traditional trailer is cut short by text advertising the sneak previews in Los Angeles and New York, superimposed over a scene between the lauded and enigmatic fashion designer Reynolds Woodcock (Day-Lewis) and his muse, Alma (Vicky Krieps).
"If you want to have a staring contest with me, you will lose," Krieps taunts in the trailer as the text lists the dates for the previews: November 24, 25, 26, 27, 28, 28, and 30. Information on how to get one of the limited seats to the previews is available at www.phantomthreadscreenings.com.
At the time of this article's publication at 10:11 a.m. PST, all the screenings available at New York's DGA Theater, Metrograph, BAM, and the Whitby Hotel were sold out. The Los Angeles screenings were still available, with the first three screenings at Ahrya Fine Arts offering "conversations to follow," presumably in the form of a Q&A with the filmmakers. The Aero Theatre in Santa Monica is also offering sneak previews.
Here's the official synopsis for Phantom Thread:
Set in the glamour of 1950's post-war London, renowned dressmaker Reynolds Woodcock (Daniel Day-Lewis) and his sister Cyril (Lesley Manville) are at the center of British fashion, dressing royalty, movie stars, heiresses, socialites, debutants and dames with the distinct style of The House of Woodcock. Women come and go through Woodcock's life, providing the confirmed bachelor with inspiration and companionship, until he comes across a young, strong-willed woman, Alma (Vicky Krieps), who soon becomes a fixture in his life as his muse and lover. Once controlled and planned, he finds his carefully tailored life disrupted by love. With his latest film, Paul Thomas Anderson paints an illuminating portrait both of an artist on a creative journey, and the women who keep his world running. Phantom Thread is Paul Thomas Anderson's eighth movie, and his second collaboration with Daniel Day-Lewis.
Phantom Thread will open in limited release on December 25, 2017.