First Plot Details Of Quentin Tarantino's New Movie Emerge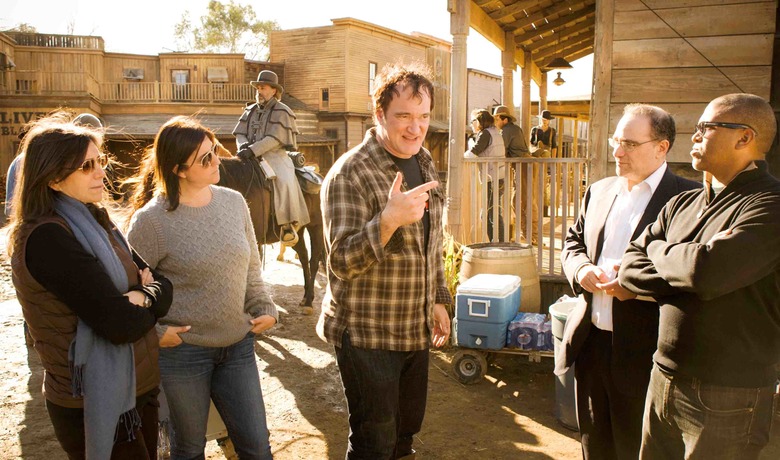 Charles Manson is dead. The infamous cult leader, whose followers embarked on a murder spree that paralyzed Los Angeles in 1969, died of natural causes yesterday while spending nine consecutive life terms in prison. No one will weep for Manson, a genuine monster, but he remains a figure of fascination and the subject of more than his fair share of movies.
And while he won't be the main subject in Quentin Tarantino's ninth movie, he is hanging around the fringes. The first plot details of the director's ninth movie have emerged and they're not what you'd expect. As previously reported, this is not a Charles Manson movie – it's a movie set in the same landscape that Manson inhabited in Hollywood circa 1969.
Vanity Fair has the details, so let's just dive right in:
Set in Los Angeles in the summer of 1969, Tarantino's upcoming movie, according to a source who read the script, focuses on a male TV actor who's had one hit series and his looking for a way to get into the film business. His sidekick — who's also his stunt double — is looking for the same thing. The horrific murder of Sharon Tate and four of her friends by Charles Manson's cult of followers serves as a backdrop to the main story.
This plot description aligns with what we've previously heard, that the currently untitled film would be about "1969," not Charles Manson specifically. It's a fascinating and tumultuous year for both Los Angeles and the United States as a whole – old Hollywood was dying and a young generation of filmmakers were about to transform the industry forever, the Vietnam War was raging, Richard Nixon was the President, film was seemingly waning in the wake of television, and the generational gap between kids and their parents had never been wider. The fact that there was also a cult leader (who lived in an old Hollywood western town set and hung out with movie stars!) whose followers would murder for him makes an already chaotic time feel downright apocalyptic.
What a setting for a movie and what a playground for Tarantino, whose love for this era of filmmaking has always shown through in his work.
That plot synopsis certainly feels like the tip of the iceberg. Surely something more is going on here, especially since Leonardo DiCaprio, Brad Pitt, and Tom Cruise are all under consideration for roles. Margot Robbie is also reportedly being eyed for the role of Manson Family victim Sharon Tate. And since this is a Tarantino movie, Samuel L. Jackson is reportedly up for a role.
Tarantino's film was recently picked up by Sony (who previously provided international distribution for Django Unchained), beating out several other studios. Sony seems to have bent over backwards for the filmmaker, offering him a $95 million budget, extensive creative control, and a very lucrative percentage of the film's profits. It's set to begin filming next year for a 2019 release date, so we should be hearing about official casting (and more story points) in the months ahead.