'Justice League' Underperforms At The Box Office: What Does This Mean For The DCEU? [Updated]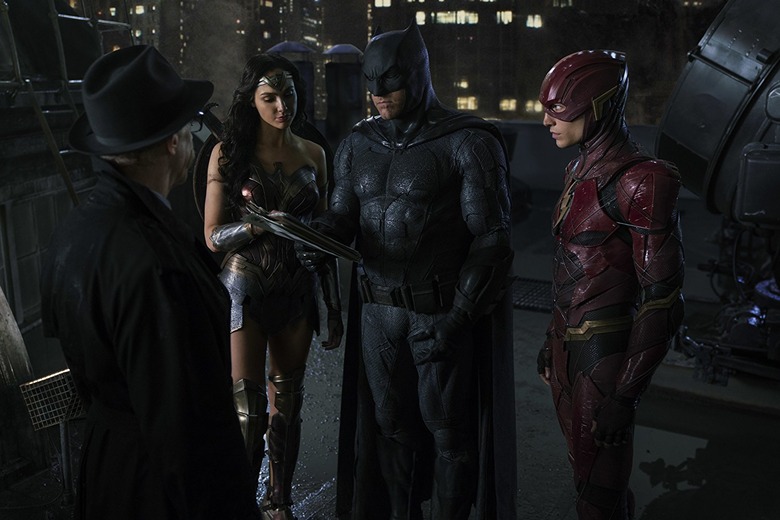 Updated: Justice League's opening weekend box office numbers were actually lower than initially reported, with the superhero team-up film opening to $94 million domestically. This is $2 million lower than the estimated $96 million that Warner Bros. reported on Sunday.
Justice League failed to live up to the sky-high expectations of fans and box office trackers on its opening weekend, raking in a mere $94 million domestically, lower than what was initially predicted. That makes it the lowest opening for any DCEU Film.
With the pressure high on Justice League to keep up the momentum of the summer's runaway success that was Wonder Woman, and to salvage the teetering DC Extended Universe, could these disappointing box office numbers spell doomsday for the fledgling superhero cinematic universe?
Justice League was on track to open to $110 million at its 4,051 U.S. theaters, but fell short of those estimates, according to Variety.
At $94 million, that puts Justice League lower than all of the DCEU franchise entries thus far, with Batman v Superman: Dawn of Justice taking the top spot at $166 million, followed by Suicide Squad ($133 million), Man of Steel ($116 million), and Wonder Woman ($103 million).
This barely cuts into the high price tag that Justice League cost Warner Bros., which is estimated to be as high as $300 million. With a highly public embattled production spread across months of director changes and reshoots, Justice League was meant to be a course-correcting film for the DC film franchise. However a controversial rollout of its Rotten Tomatoes score and the tepid response from film critics may have been the final nail in the coffin for the highly anticipated comic book movie.
However, there is a beacon of hope for the World's Finest internationally. Justice League soared to a whopping $185.5 million opening internationally, with Chinese theaters leading the charge at $51.7 million, according to Deadline. In Brazil, Justice League was the country's biggest industry opening weekend ever at $14.2 million.
Warner Bros. continues to hold out hope for this upcoming holiday weekend too. Jeff Goldstein, Warner Bros. domestic distribution president, told Variety that the studio expects a 28% hike at the start of Thanksgiving weekend.
"The movie is on a path different from what we were hoping but we're optimistic going into the Thanksgiving holiday. There will be 35% of schoolchildren out of school on Monday and Tuesday and 75% out on Wednesday."
What Does This Mean for the DCEU?
Despite some silver linings, this is not the financial and creative pivot that Warner Bros. foresaw Justice League to be. Unlike the surprise success of Wonder Woman, which far outshot its low box office predictions to become the highest-grossing DCEU movie, Justice League has undeniably disappointed. And with Warner Bros. relying heavily on box office numbers to guide their approach to the DCEU, this could put into jeopardy the superhero universe's future.
The slate for the DCEU films is already in contention, without much confirmation for future films beyond Aquaman and Wonder Woman 2. This could be the breaking point for waffling star Ben Affleck, whose dedication to playing Batman seems to change with the wind on a daily basis.
It all comes down to whether Justice League can break even on its estimated $300 million budget – international and holiday numbers may help push it over the hump. But if Justice League becomes a costly loss for Warner Bros., we may see future DCEU films put on hold or get longer waits for already-troubled solo films like The Flash (which has seen several directors come and go). And will Geoff Johns finally get to live up to the promise of becoming the DCEU's new point-man? The ball's in Warner Bros.' court.