'Star Wars: The Last Jedi' TV Spot: Finn Awakens And Has Only One Question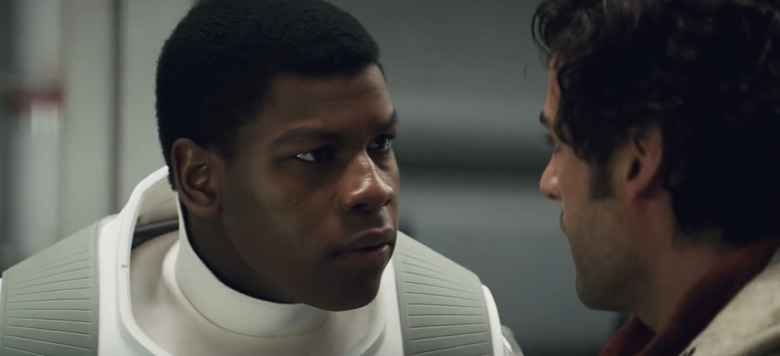 We're less than a month from the release of Star Wars: The Last Jedi, and the onslaught of marketing for the next chapter of the Skywalker saga is increasing everyday. Now that all the theatrical trailers have been released, we're starting to get tidbits of new footage by way of TV spots, and a new one has just popped up.
Most of the Star Wars: The Last Jedi TV spots feature recycled footage from the trailers, but in a new glimpse at the sequel from director Rian Johnson, we see some new footage of Finn (John Boyega) as he plays catch-up with what's going on between the Resistance and the First Order.
Watch the Star Wars: The Last Jedi TV Spot
At the end of Star Wars: The Force Awakens, we saw Finn unconscious in some kind of medical pod. He was clearly going to need some time to recover after his fight with Kylo Ren didn't go very well. The defected Stormtrooper turned Resistance fighter had his shoulder burned and his back slashed by Kylo Ren's unique lightsaber, and he was down for the rest of the movie after that.
However, we knew Finn would be waking up at some point since we've seen him in disguise as a First Order officer, taking on his former supervising officer Captain Phasma (Gwendoline Christie) head-on, as well as piloting a ship on the new planet Crait. Now we get to see Finn waking up from his slumber, and upon finding his old pal Poe Dameron (Oscar Isaac), he only has one question: "Where's Rey?"
While it would be easy to assume that there might be a romance brewing between Finn and Rey (Daisy Ridley), I think the more likely option is just that they've struck such fast bond with each other after surviving ordeal after ordeal that they are simply fast best friends. Plus, both of the characters were rather lost in their lives before becoming part of this galactic struggle, and now they both have something to fight for.
As for what's in store for Finn in this story, here's what John Boyega told SciFiNow Magazine (via ScreenRant):
"You've got your foundation for the character. Now you're moving onto the next project and you're trying to, you know, make more of the character. You can't make more of someone you don't really know. And so for me the fear that I did have going into VIII was that I hope that we get more of a sense of where [Finn] belongs... The story for him in this movie is him making that decision himself as to where he will belong, where he wants to identify himself. And I think that's very important. Finn is now a known kind of space terrorist. They see him as a rogue. So that causes a lot of tension. He can't just go through space the way he used to."
That's an interesting way to describe Finn, though I suppose you could call everyone in the Resistance a space terrorist. They just happen to be the team we're rooting for to win against First Order tyranny. But the tension that he talks about is interesting. Maybe Finn is only fighting for the Resistance while their goals line up, and he hasn't yet decided to stay fully dedicated to the cause. Or maybe it's just that the Resistance has trouble accepting him because they don't fully trust him yet.
We'll find out when Star Wars: The Last Jedi arrives on December 15, 2017.