Chance The Rapper Hosts The Best 'Saturday Night Live' Of Season 43 So Far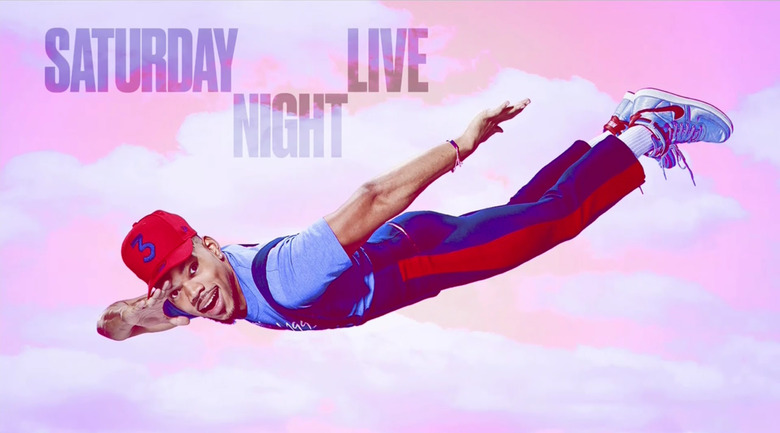 That's right. Out of the six episodes of Saturday Night Live we've had so far, the best episode of the season wasn't hosted by a huge movie star or a popular comedian. Instead it was hosted by chart-topping hip-hop artist Chance the Rapper, who makes the case for his own career in comedy effortlessly.
Chance the Rapper has taken to the stage in Studio 8H before a a musical guest on SNL, but this was his first time hosting the show. While he seemed a little nervous at the top of the show, he gradually got more and more comfortable as the night went on and proved that he has some impressive comedy chops. So let's run through the best and worst sketches of the Chance the Rapper hosted Saturday Night Live below.
The Best
Family Feud: Harvey Family Thanksgiving – As soon as I saw the Family Feud logo, I immediately rolled my eyes. Though this recurring game show sketch can be very funny, more recently it's been rather lackluster. But once it became clear that the premise of this Family Feud sketch was much different, I was fully on board, and it only got better from there. Chance the Rapper does an incredible job with his part here, which we'll let you discover more about yourself by watching the sketch. Let's just say he has a fantastic Steve Harvey impression, or at least a spot-on rendition of Kenan Thompson's Steve Harvey impression.
Career Day – Mikey Day is outstanding at playing kids and teenagers. His young face helps, but the way he carries himself and speaks is what truly makes it work. In this case, that combined with the manufactured excitement regarding his father's job as a general contractor. Chance the Rapper adds a bit more to it, but for me it's Mikey Day that makes this sketch, especially with that spittake on Melissa Villaseñor (which also cracks up Pete Davidson in the background). Oh, and let's not forget that whenever Kenan Thompson yells at his son, it's immediately funny.
Wiki Leaks – With more and more of SNL's political satire becoming stale (mostly because it's hard to make fun of stuff that's so damn terrifying and awful nowadays), the saving grace might be Mikey Day and Alex Moffat as Donald Trump Jr. and Eric Trump. The big brother/little brother dynamic between these caricatures is hilarious. The way Trump Jr. condescends to the dimwitted, immature Eric Trump never gets old, and the stupidity that unfurls from the mouth of the latter is hilarious.
Wayne Thanksgiving – It looks like Batman might be a little too hard on the criminals of a certain section of Gotham City. Either that or he's secretly racist and has a fetish for hanging people up by their underwear. The escalation of the sketch, both regarding Batman's actions and Bruce Wayne's mistakes almost revealing his secret identity, make this sketch funnier and funnier as it goes on, especially since there were some line flubs at the beginning that made it a little difficult to get traction at first.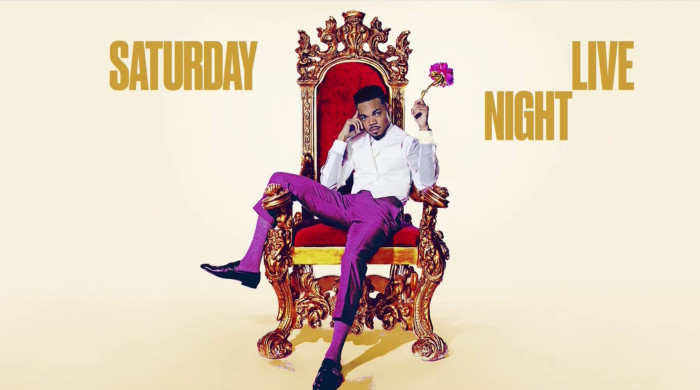 The Average
Come Back, Barack – Man, I want to like this sketch so much more. It's s perfect parody of R&B music videos from the 1990s, but it feels held back by the fact that Kenan Thompson and Chris Redd can't really carry much of a tune to match up with Chance the Rapper. This sketch really could have benefited from having some stronger singers. Even so, this is quite the funny (and depressing) shout out to former President Barack Obama.
Porn Pizza Delivery – Honestly, I'm surprised we don't see this character more. Parodying a porn with a cliche premise is an easy set-up, and Aidy Bryant's naivete is always good for a laugh as the little girl who somehow always finds herself on the set of porno movies. Heidi Gardner is the standout here though, absolutely nailing the trashy porn star pretending to be a teenager, not that I've ever seen a porn like that or anything. Moving on...
Sports Announcer – While the premise of this sketch feels a bit stale because of how easy it is to act like you don't understand a sport, Chance the Rapper helps elevate it to being rather amusing. He's so earnest in his clueless nature about the sport that you can't help but laugh here and there.
The Worst
Rap History – Honestly, this episode is so good that this sketch probably could have ended up in The Average section. The production value is impressive, and cameos from Common and Questlove are a nice touch. It's nice to see Pete Davidson do a goofy character. But even so, this one just felt like it had something missing. While it was successful in parodying other music documentary specials, it wasn't ever all that hilarious. Maybe it's because Popstar: Never Stop Never Stopping just did this so much better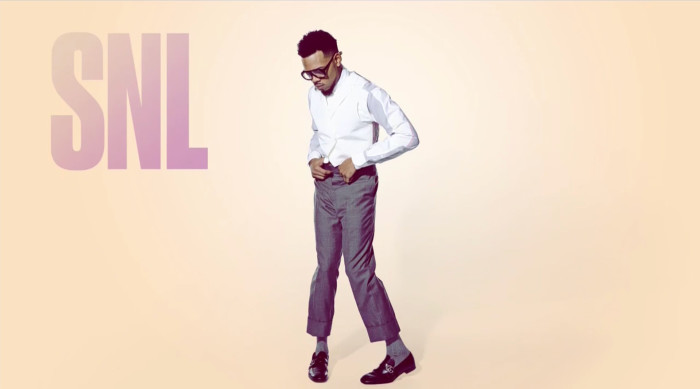 Weekend Update
It was nice to see that SNL didn't hold back from taking jabs at former writer and cast member Al Franken in their approach of the headline-making sexual harassment case made against the sitting senator. Otherwise, this was one of the more tame editions of Weekend Update for Colin Jost and Michael Che, and that's mostly because it was the side characters who filled out the segment this time.
Jeff Sessions – As much as I love Kate McKinnon's Jeff Sessions impression, the exaggerated characterization of the politician doesn't work quite as well in a Weekend Update setting. Maybe it's just the writing in this particular segment wasn't all that great, but I think this cartoonish impersonation works better in a real sketch rather than a conversational style like this.
Bruce Chandling on Thanksgiving – With the exception of the pre-recorded sketches he does with Beck Bennett, we haven't seen a lot of great stuff from Kyle Mooney lately. But thankfully, Bruce Chandling returned to the Weekend Update desk. I feel like there are so many people who just don't get this character especially based on the sporadic laughter from the live audence, and maybe that's because is expressly crafted for stand-up comedy nerds. The awful jokes and inevitable turn to sadness never ceases to crack me up. I hope SNL never gives up on this character.
Pete Davidson on Staten Island – Ladies and gentlemen, Pete Davidson. It's been awhile since Davidson had a home run at the Weekend Update desk, but this time he knocked it way out of the park. Some of the best comedy is that which comes from real life, and this is clearly one of those situations. It looks like Pete Davidson's hometown of Staten Island doesn't really like him all that much, but they love to kiss fellow resident Colin Jost's ass quite often. This bit is so damn good, and I love that Davidson uses it as an opportunity to take even more jabs at Staten Island.
The Host
It appears as if Chance the Rapper can do anything. Not only is he already a successful rapper, but he has a new movie coming out, and now it's clear that he can hold his own with some of the best sketch comedians in the business. Though Chance the Rapper was clearly nervous during his monologue, even flubbing part of his Thanksgiving song, you could clearly see him getting more confident and comfortable throughout the night. I could easily see Chance the Rapper becoming a host along the lines of Justin Timberlake where people get excited whenever he comes to the show. At least I hope that's the case.
The MVP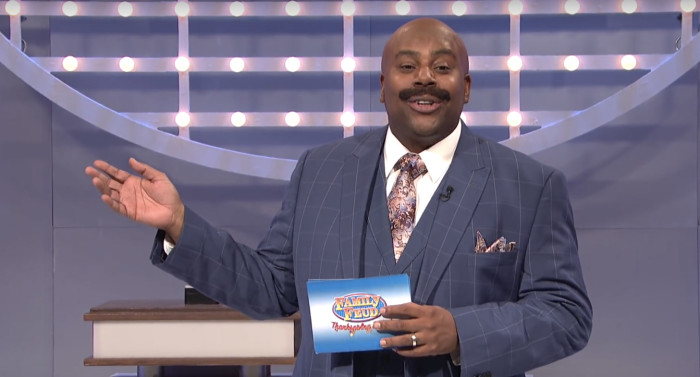 Kenan Thompson (runner-up: Chance the Rapper) – While Chance the Rapper deserves all the credit in the world for being an outstanding host for his first time out, Kenan Thompson was the one who increasingly brought the big laughs during this episode. Some think Thompson's schtick gets old, but for me, he's pitch perfect and does exactly what he's supposed to do in this ensemble cast.
The Final Word
This is undoubtedly the best episode of the season so far, and it was nice to have one like this after two rather disappointing episodes preceding it. What I loved about this particular episode is that the presence of Chance the Rapper allowed the black members of the Saturday Night Live cast to shine much more. You might think that's the result of having a black host, but that's not how it worked with Tiffany Haddish. Whatever the reason, it was nice for Saturday Night Live to actually let the diverse side of their cast take the spotlight.