'Trust' Teaser: Donald Sutherland Is J. Paul Getty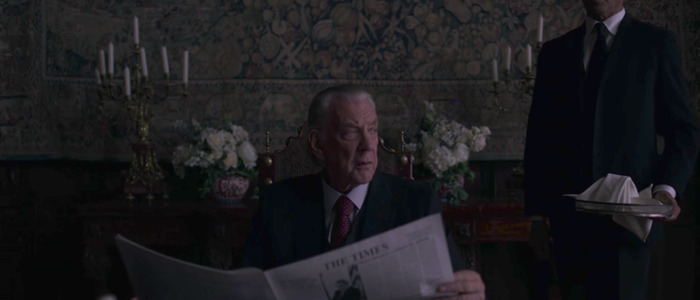 If you thought All The Money In the World was the only J. Paul Getty-related drama on the horizon, guess again: FX has an entire TV series about the Getty family coming up. The Danny Boyle-directed series, called Trust, features Donald Sutherland in the role of cold-hearted billionaire J. Paul Getty, and the first Trust teaser gives us a look at his sure-to-be-memorable performance.
Ridley Scott's All The Money In the World made headlines recently when Scott decided to remove scenes involving actor Kevin Spacey and reshoot them with Christopher Plummer. Spacey, and now Plummer, plays J. Paul Getty, an oil tycoon who refused to pay the ransom when his grandson John Paul Getty III was kidnapped. We have yet to see what Plummer's take on the performance may be, but he apparently has some competition from Donald Sutherland. Sutherland is playing the same role in the FX series Trust, and the first Trust teaser shows us Sutherland's droll, darkly amusing take on the character. Watch it below.
Watch the Trust Teaser
While Trust will be covering the same kidnapping events from All The Money In the World, it will also be focusing on additional trials and tribulations of the Getty family, although season 1 seems to be fairly preoccupied with the kidnapping storyline. The show will debut after All The Money In the World opens, so here's hoping audiences will still be in the mood for even more stories about the Getty family. Here's the official synopsis:
Trust will delve into the trials and triumphs of one of America's wealthiest and most notorious families, the Gettys. Equal parts family history, dynastic saga and examination of the corrosive power of money, Trust is a story that attempts to unlock the mystery at the heart of every family, rich or poor.
Trust will be directed by filmmaker Danny Boyle, and it'll be interesting to see how the Steve Jobs filmmaker makes the jump from film to TV series. The script is from Boyle's Slumdog Millionaire screenwriter Simon Beaufoy. In addition to Sutherland, Trust also stars Hilary Swank, Harris Dickinson, Brendan Fraser, Hannah New and Michael Esper. 
Sutherland is a legend – a great actor with a wealth of memorable roles under his belt. I'm super excited to see him sink his teeth into this role, chew scenery and probably walk away with a few award nominations when all is said and done. Also: Brendan Fraser will be in this! Is this going to be the beginning of the Frasersance? We can only hope.
Trust will debut on FX in 2018.