New 'Star Wars: Galaxy's Edge' Planet Batuu Revealed On Disneyland's Star Tours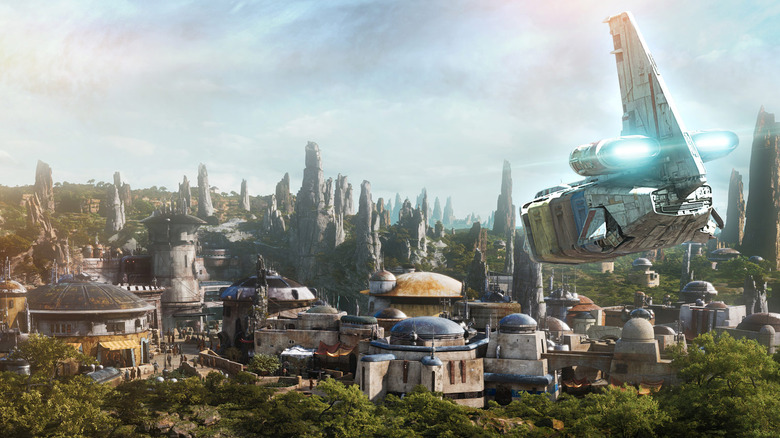 Could a new addition to the Star Tours experience herald a future far, far away from the current Hollywood Studios and Disneyland parks location? Say, in the upcoming Star Wars theme park land, Star Wars: Galaxy's Edge? Possibly, probably, and most likely.
Two new planets, Crait and Batuu, have been added to the Star Tours attraction at Disneyland and Walt Disney World. The first planet Crait, which is introduced as a mineral world in Star Wars: The Last Jedi, follows the trend of updates to the ride to promote the Star Wars films, but Batuu stands out — not just because it is a brand-new planet, but because it is the main location of the upcoming Star Wars: Galaxy's Edge, set to open in 2019.
The two planets will be added to the latter end of the Star Tours five-part experience: takeoff, a first destination, a holographic transmission to the ship, a second destination, and an arrival at a base or world. Crait and Batuu will be the second destination and final arrival, respectively, according to StarWars.com.
Here's the description of Batuu, seemingly a remote trade outpost, by Disney Creative Executive Scott Trowbridge:
"This remote outpost on the galaxy's edge was once a busy crossroads along the old sub-lightspeed trade routes, but its prominence was bypassed by the rise of hyperspace travel. Now home to those who prefer to stay out of the mainstream, it has become a thriving port for smugglers, rogue traders and adventurers traveling between the frontier and uncharted space. It's also a convenient safe haven for those intent on avoiding the expanding reach of the First Order. While Batuu may be new to us, it is clearly already familiar to many characters from the Star Wars saga as a stepping off point for epic adventures."
According to WDWNT, the update also comprises of two new opening sequences with Kylo Ren and First Order Stormtroopers, and two new transmission sequences featuring Maz Kanata and Poe Dameron.
This update comes on the heels of speculation by /Film chief Peter Sciretta that Star Tours may not be long for this world, replaced by the upcoming Star Wars: Galaxy's End, which expands a previously straightforward experience into a whole explorable theme park land. If that's the case, it's appropriate that Star Tours literally drops riders off at the home of the new Star Wars theme park land. /Film editor Jacob Hall notes that this update feels like a "passing the torch" moment for the Star Wars rides, after which the Star Tours location will likely be transformed into something else (possibly even something Marvel-related, if we were to make an educated guess). After all, the original ride becomes redundant once there's an entire land dedicated to Star Wars across the park.
"Looks like there are more adventures to come," C-3P0 reportedly tells guests at the end of the updated Star Tours experience. It looks that way, indeed.
Star Wars: Galaxy's Edge is currently under construction at Disneyland in California and Disney World in Florida, but a new preview of the theme park will air  during the The Wonderful World of Disney: Magical Holiday Celebration TV special on November 30 at 9pm ET on ABC, according to The Disney Blog. Meanwhile, you can watch a fly-through of a concept of the park below.