'Star Wars: The Last Jedi' TV Spot: Rey Won't Fail Luke Like Kylo Ren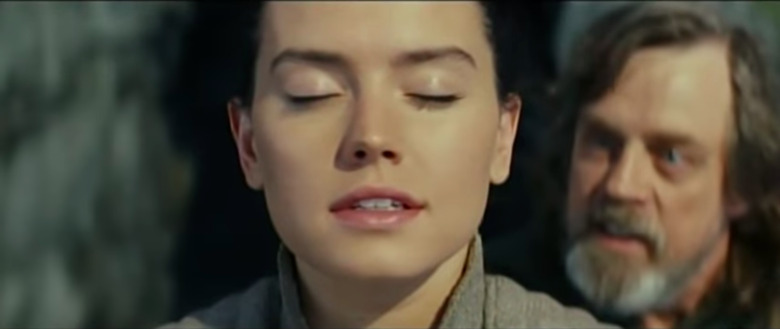 "Kylo failed you. I won't."
A new Star Wars: The Last Jedi TV spot, which is long enough to be labeled as a new trailer on its own, gives us insight into what exactly went wrong between Luke Skywalker and his once-promising padawan, Kylo Ren. But the wary Jedi Master can't be left to bemoan his failures in peace, as the desperate Rey pleads with him to train her, promising to succeed where Kylo Ren failed.
Star Wars The Last Jedi TV Spot
"You've seen this place," Luke's voice says to Rey, to which she responds, "Only in dreams."
But it will take more than fate to convince Luke to take Rey under his wing, after he witnesses her unsettling power and raw strength — something he had only seen before in his last pupil, Kylo Ren. Various shots throughout the spot show Luke in states of distress, tears threatening to escape his eyes as Rey argues with him.
"This is not going to go the way you think," Luke shouts to Rey in a strained voice. Their back-and-forth dialogue is set to flood of brand new footage of Luke, Leia, Kylo, and Rey, as well as some cryptic flashbacks to Kylo Ren's betrayal of Luke.
We revisit a memorable scene from The Force Awakens: a robotic hand reaching out from a mass of fiery rubble — Luke Skywalker's right hand, which he lost in battle with his father Darth Vader. (That's another piece of poetic symmetry right there that the new Star Wars films love to play with.) Immediately after, a cloaked figure falls down on his knees next to R2-D2, looking on at the house or building that has been set afire in front of him. What we don't see is Luke escaping from the rubble and fleeing to the planet of Ahch-To, where Rey finds him years later at the end of Star Wars: The Force Awakens. The TV spot heavily emphasizes the yin-and-yang foils of Rey and Kylo — unsurprising since a majority of The Last Jedi seems to follow Rey as she attempts to escape Kylo's shadow.
Star Wars: The Last Jedi is set to hit theaters on December 15, 2017.
Rey develops her newly discovered abilities with the guidance of Luke Skywalker, who is unsettled by the strength of her powers. Meanwhile, the Resistance prepares to do battle with the First Order.