Superhero Comedy 'Super-Normal' Goes To Netflix; Josh Gad, Daisy Ridley, And Luke Evans On Board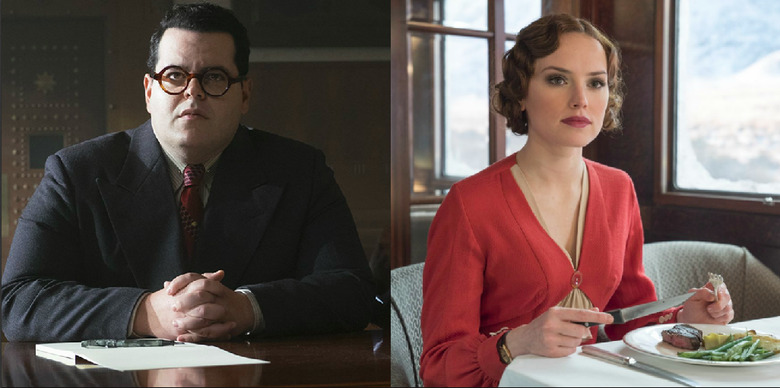 If the proliferation of Olaf merchandise wasn't a sign that Josh Gad is fast becoming one of the most powerful figures in Hollywood, then the Netflix superhero comedy that he's producing could be.
I exaggerate, but Josh Gad has certainly become one of the hardest-working people in Hollywood in the past few years since he broke into mainstream success with Frozen, quickly accumulating movie credits like Beauty and the Beast and Murder on the Orient Express. But a padded IMDB page isn't the only thing he got out of this — it seems that Gad has formed strong bonds with co-stars Luke Evans and Daisy Ridley, so much so that the two of them have signed onto his Netflix comedy Super-Normal.
Netflix has picked up Super-Normal, the satirical superhero movie package that Gad developed, pitched, and is now producing. According to The Hollywood Reporter, Gad is producing the project with Dan Lin, who produced Death Note for Netflix. Jonathan Eirich of Lin Pictures is also producing while Aaron and Jordan Kandell, of Moana fame, are penning the script. Evans will executive produce.
Evans was reportedly with Gad in the room during his pitch meetings. And you just have to look at the viral videos of Gad prodding Ridley about Star Wars: The Last Jedi details to see how he got his Murder on the Orient Express co-star on board. In fact, it sounds like the whole Orient Express crew got on famously.
Here are the details that THR has on Super-Normal, a comedy intended to poke fun at the superhero genre:
Super-Normal is intended to be a character-driven, subversive take on a genre that Hollywood and the rest of the world loves too much. The package hit the town late last month, generating instant interest and a bid from Disney, among other studios.
Gad was shopping Super-Normal around Hollywood as recently as last month, during which time it piqued the interest of several studios, including Disney. But Netflix ultimately won out in the bidding contest.
I admire Gad for his gumption in bringing this project to life, though I think we're in slight danger of Gad fatigue — if not superhero movie fatigue. The meta superhero comedy has been around since the genre first hit it big in the early 2000s, and has even moved to TV with shows like Powerless. But it's still too early on to tell if Super-Normal will just be par for the course when it comes to the superhero satire, and the cast is admittedly impressive — anything Daisy Ridley does while she's starring in a new Star Wars trilogy will immediately garner interest. Evans too is an overlooked movie star waiting for his big break. While Super-Normal may or may not be it, I would happily watch anything that highlights his talents.