'Stripes' TV Series In Development, Nothing Will Ever Be New Again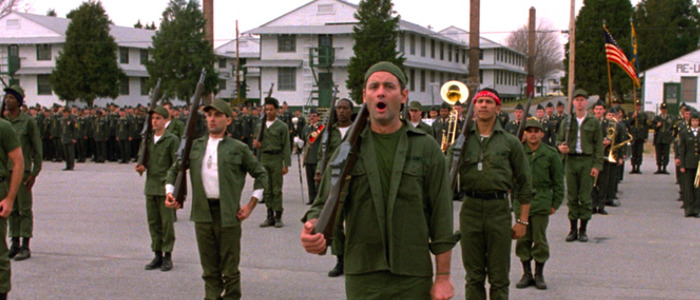 What's old is new again, forever and ever. The Bill Murray military farce Stripes is headed to TV, as CBS is developing a new series based on the 1981 film. Interestingly enough, the film's original director, Ivan Reitman, is set to direct the series revival. Are you ready for a Stripes TV series?
Want something new? Too bad! You're getting leftovers. Stripes is about to become a TV series, and original director Ivan Reitman is returning to usher it onto the small screen. Before they made Ghostbusters, Reitman, Bill Murray and Harold Ramis teamed-up for the 1981 comedy Stripes. The film is about two friends (played by Murray and Ramis) who decide to join the military on a whim. That doesn't sound like a particularly interesting concept, yet Reitman, Murray and Ramis were able to forge comedy gold from it, creating an endlessly quotable film. Now, because Hollywood has drained the well dry in their quest to repurpose old ideas, Stripes will be finding new life in the form of a TV series.
Deadline reports CBS is developing the series with The Whitest Kids U'Know members Trevor Moore, Sam Brown and Zach Cregger, with Reitman on board to direct the pilot episode. Here's the film's original synopsis to give you a better idea of just what this series might be like:
Hard-luck cabbie John Winger (Bill Murray) – directionless after being fired from his job and dumped by his girlfriend – enlists in the U.S. Army with his close pal, Russell Ziskey (Harold Ramis). After his barely satisfactory performance in basic training, the irreverent Winger emerges as the fig

urehead for a ragtag band of Army misfits. However, his hijinks threaten to cause an international scandal when he inadvertently commandeers a military assault vehicle behind enemy lines.
It's worth noting that the canceled TV show Enlisted turned almost this same premise into a series. And while the series was very funny, and garnered good reviews, almost no one watched it (thus its cancelation). Will the Stripes series fare any better? It's hard to say. I seriously doubt anyone cares about the premise of Stripes. What makes the film a comedy classic is the cast: people love to watch Bill Murray and Harold Ramis riff their way through farcical situations. If this Stripes TV series is going to work, it's going to have to find two leads with the comedic timing of Murray and Ramis. Good luck with that.