'Star Wars: The Last Jedi' Images Show Off Two New Characters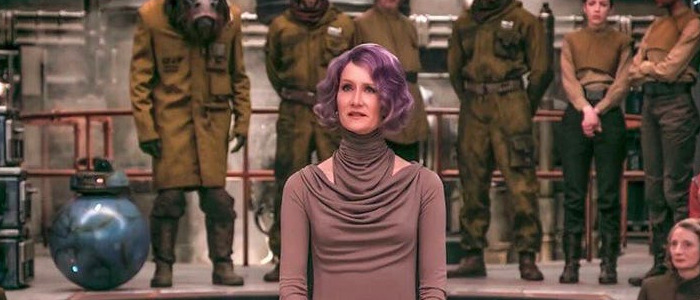 We're getting closer and closer to Star Wars: The Last Jedi and two new images from the film have arrived. The images give us new looks at new characters Vice Admiral Amilyn Holdo (Laura Dern) and Rose (Kelly Marie Tran). In a new interview to accompany the images, Dern and Tran reveal some details about their new additions to the Star Wars universe. You can see the new The Last Jedi images below.
The time is almost here. Rian Johnson's Star Wars: The Last Jedi will be storming into theaters next month, bringing back familiar characters and introducing us to brand new members of the Star Wars universe. Among those new members are Laura Dern, playing Vice Admiral Holdo, and Kelly Marie Tran, playing resistance mechanic Rose. In a new interview in Time, Dern and Tran talk a bit about their roles, in the vaguest, most spoiler-free possible ways. There are also two new images of their characters. Rose is brandishing a Star Wars-y screwdriver and Dern stands regal in all her purple-haired glory.
As is the modern Star Wars tradition, both actresses are hesitant to give away too many details about their characters, or the film in general. We know from past reports that Dern's character will be an officer in the resistance, and that Tran's character is a mechanic who befriends John Boyega's character, Finn. Beyond that, though, details are spotty. "The new people will either be leading or misleading the heroes," Dern says cryptically in the Time piece.
Tran, who has a background in improv comedy, reveals that she and Boyega used some improvisation for more comedic moments, saying, "John Boyega is very funny, and sometimes we could improvise." Other than that, mum's the word. Tran does, however, talk about the importance of playing the first major Asian female character in the Star Wars saga:
"When I was growing up, I didn't see anyone like me in movies. And I wanted to be white for the longest time, because I thought that meant my story would be valid," she says. "When you're a kid, you see images on TV and on billboards and in magazines–they all look the same, and you wonder, 'Why don't I look like that? And can I change myself to look like that?'"
Star Wars: The Last Jedi, featuring Dern and Tran acting alongside Mark Hamill, Carrie Fisher, Daisy Ridley, Adam Driver, John Boyega, Oscar Isaac, Andy Serkis, Lupita Nyong'o, Domhnall Gleeson, Anthony Daniels, Gwendoline Christie, Benicio del Toro and Porgs, opens December 15, 2017.