Rumor: 'The Batman' Director Has A Back-Up Batman In Mind If Ben Affleck Bails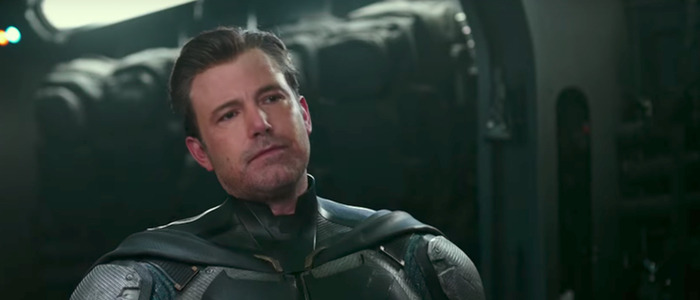 We're only a few hours from the official release of Justice League, but some attention has jumped ahead to director Matt Reeves' planned take on The Dark Knight with his solo movie The Batman. Ben Affleck, the most recent actor to don the cape and cowl, just said he's looking for "a graceful and cool way to segue out of" the role. And now a new rumor has surfaced that claims Reeves has someone in mind to take over the role of the Caped Crusader if Affleck decides to step down – and the new contender was actually a candidate for the role before Christian Bale was cast in Batman Begins.
Who is rumored to be the replacement choice for The Batman actor? Find out after the jump.
Again, I want to heavily stress that this is nothing more than a rumor, but I feel like it could provide a nice jumping off point for conversation, so let's indulge it for a minute. The host of The John Campea Show claims he spoke with a couple of his sources and heard that Reeves wants Jake Gyllenhaal to take on the Bat-mantle. Campea says his source told him, "Yes, that is the name that's been floated, there have been some conversations, but it's not a sure thing that this is happening."
Let's assume this rumor is true. First of all, Affleck himself has openly stated that he's looking for a way out, so anyone holding out hope that he'll stick around and play Batman again in another few movies is probably on the road to imminent disappointment. (Remember when Affleck was co-writing the script and was even going to direct The Batman? That feels like so long ago.) Secondly...Jake Gyllenhaal, eh?
My first thought is what Gyllenhaal would be able to bring to the role, and I think he'd actually be a far better Batman now than he would have been in the Batman Begins era. Gyllenhaal's fundamentally reshaped himself as an actor over the last decade in movies like End of Watch, Prisoners, Enemy, and especially Nightcrawler, and if he could bring that same level of intensity to Batman, it'd be the first time since Michael Keaton played the Caped Crusader that the character would have that kind of energy. For me, Justice League proves that Affleck has overstayed his welcome as the character. His Batman was angry and misguided in Batman v Superman, but at least there was something going on with him. All of that rage is gone in Justice League, and Affleck feels like he's sleepwalking his way through that movie. (RIP my mentions.)
In addition to the loose cannon intensity Gyllenhaal could bring to the part, there would also be some nice mirroring going on if Gyllenhaal gets the role, because it would mean that both he and Superman actor Henry Cavill would have auditioned for those respective roles in earlier superhero films, didn't get them, and then were ultimately cast in later movies. (Cavill auditioned for the scrapped Superman: Flyby.) Whether those two men would ever actually share the screen together as those characters remain to be seen, because we're still not entirely sure how (or if) Reeves' movie fits in with the franchise's ongoing narrative.
But what do you all think? Assuming this rumor pans out, do you think Gyllenhaal (who's about eight years younger than Affleck) could deliver a great performance in Reeves' noir-driven detective movie? If not, who would you like to see step into the role next?