Marvel's Multiple Man Is Getting A Movie, James Franco To Play The Self-Replicating X-Man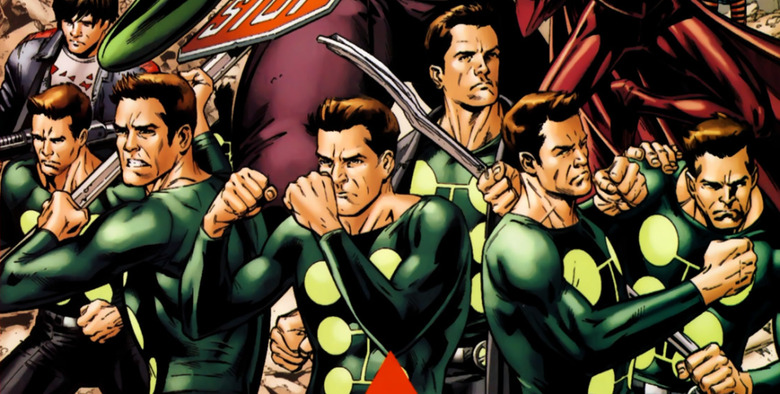 James Franco made himself known to a generation of movie fans as Harry Osborn in Sam Raimi's original Spider-Man trilogy. Now, he's returning to the Marvel comic book movie fold. A movie based on the X-Men character Multiple Man is in the works at 20th Century Fox and the Oscar-nominated actor is on board to star.Deadline reports that the Multiple Man movie is being developed, with Wonder Woman screenwriter Allan Heinberg and longtime X-Men producer/writer Simon Kinberg (who will make his directorial debut with X-Men: Dark Phoenix) producing alongside Franco. Interestingly, the movie came together as Franco and Kinberg developed another project together, The Hardy Men, about the grown-up adventures of the classic literary sleuths, The Hardy Boys.
In the Marvel comics, Multiple Man is codename of Jamie Madrox, a mutant with a double-edged superpower. Whenever he makes physical contact with anything, he creates a copy of himself. And then that clone can create a copy of itself. And the next clone can create a copy of itself. And so on. Naturally, this comes in handy in a fight, but it's a real pain in the butt if you want to live an ordinary life. In the comics, Professor Charles Xavier of the X-Men builds Jamie a special suit that allows him to better control his chaotic powers.
Multiple Man isn't the most well-known superhero out there, but he sure is an interesting one. The fact that his clones have minds of his own and often reflect certain portions of his personality recall another oddball X-Men character who recently made it to the big screen: David Haller, the mentally ill psychic mutant at the heart of FX's incredible Legion. In fact, Multiple Man could very easily be a sibling to that gonzo series, especially since it will give Franco a chance to literally act alongside himself. Perhaps even dozens of versions of himself.
While this seems like an odd character to build a movie around, Multiple Man is perfectly in line with the other recent X-Men projects. Deadpool was a raunchy, self-aware comedy. Logan was a brutal western for adult audiences. The upcoming New Mutants is essentially a horror movie. After years of bland X-Men movies, Fox seems to realize that they can stand out from Marvel Studios and DC by letting their freak flag fly...and there's nothing freakier than a superhero movie starring James Franco and James Franco and James Franco and James Franco...
It's still early days yet for Multiple Man, so we'll keep you posted as we learn more.