'Coco' Will Soon Be The Highest-Grossing Movie In Mexican Box Office History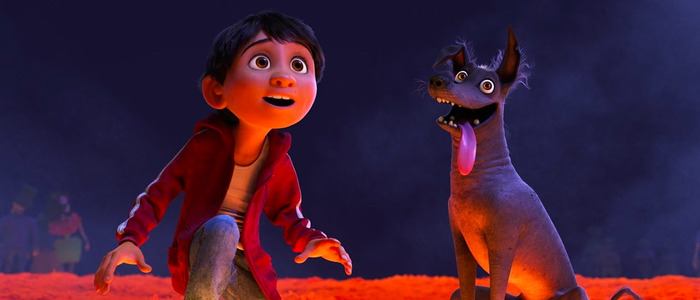 There's still a week left before Coco finally sashays into U.S. theaters, but the animated Pixar film is already breaking records in Mexico. And it's no surprise: Coco is the first Pixar film featuring a Mexican protagonist, set in Mexico, on the widely-celebrated Mexican holiday Dia De Los Muertos, also known as the Day of the Dead.
Released in Mexican theaters on October 27, two days before the Day of the Dead celebrations began, Coco quickly shot to the top of the Mexican box office. Now, 19 days after its release, it is on the cusp of breaking the record for the highest-grossing movie in Mexico.
Coco premiered in Mexico on October 21 at the Morelia Film Festival, and since then has gone on to rake in 824 million pesos — the equivalent of $43.1 million according to Variety. The current record holder,  The Avengers, grossed 827 million pesos in its entire run and Coco will soon fly past that number. For the first three consecutive weeks after its release, Coco has held the top spot at the box office, Variety reported.
So what does this suggest for the U.S. box office numbers when the film opens next week?
The film currently boasts a 96% on Rotten Tomatoes, and it is a Pixar film — even the studio's lowest-reviewed films do well at the box office. The studio has a built-in audience, to be sure, and a wide demographic of families will certainly be drawn to the movie during its Thanksgiving weekend opening. But Pixar has been on a somewhat downward streak recently, with an over-reliance on sequels to beloved classics (Finding Dory, Monsters University) and unimpressive original outings (The Good Dinosaur) raising eyebrows amongst animation aficionados. 2015's spectacular Inside Out seems to the be the big exception.
But Coco looks like it will buck that trend, and deservedly so. I was lucky to visit Pixar when the final touches were being made on Coco and was astonished by the team's extensive research into Mexican history and earnest mission to authentically depict the culture — which is probably why the film rang so true in Mexico. The film is a lovely and charming story of a boy yearning to accomplish his dreams as a musician, buoyed by radiant and surreal animation. Here's the official synopsis:
Despite his family's generations-old ban on music, young Miguel dreams of becoming an accomplished musician like his idol Ernesto de la Cruz. Desperate to prove his talent, Miguel finds himself in the stunning and colorful Land of the Dead. After meeting a charming trickster named Hector, the two new friends embark on an extraordinary journey to unlock the real story behind Miguel's family history.
Coco is set to hit U.S. theaters on November 22, 2017.