Warner Bros. Rescues 'Paddington 2' From The Weinstein Company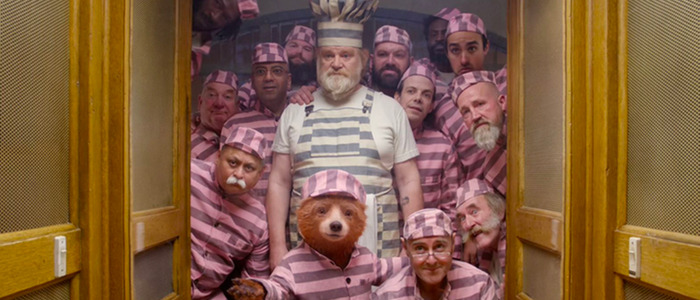 Good news for charming bear Paddington: his sequel Paddington 2 has been rescued from the ruins of The Weinstein Company by Warner Bros. TWC had hoped to sell-off Paddington 2 as their company continues to sink lower and lower into oblivion following the ousting of Harvey Weinstein. Thankfully, the folks at WB will save Paddington's day, with the studio now handling the Paddington 2 release.
Someone told Warner Bros. "Please look after this bear," and the studio nodded and said, "Okay." Variety reports that Warners have rescued Paddington 2 from the wreckage of the Weinstein Company, and will keep the film's originally planned release date of January 12, 2018. TWC had been trying to find a buyer for the sequel before filing for bankruptcy protection. Warner Bros. purchased the film's U.S. and Canadian distribution rights from Studiocanal and TWC/Dimension Film.
Paddington was one of 2015's nicest film surprises: a warm, funny treat for anyone who doesn't have a lump of coal where their heart should be. The big screen adaptation of the beloved children's book over-performed at the box office, which meant a sequel was needed, pronto. But that sequel, Paddington 2, was in peril following the sexual assault allegations against The Weinstein Company president Harvey Weinstein. After Weinstein's exit from TWC, the film studio has found itself in serious trouble, pulling The Current War, a film originally intended to be an Oscar entry, from the calendar entirely. Paddington 2, thankfully, will not suffer the same fate.
Paddington 2 stars Hugh Bonneville, Sally Hawkins, Brendan Gleeson, Julie Walters, Jim Broadbent, Peter Capaldi and Hugh Grant, with Ben Whishaw once again providing the voice of the marmalade loving Paddington. Like the first film, it looks charming as hell. Here's a trailer.
Have I mentioned that Brendan Gleeson plays a character named Knuckles McGinty in this? Because he does. Here's the film's synopsis:
The much-anticipated sequel to the worldwide hit family film finds Paddington happily settled with the Brown family in Windsor Gardens, where he has become a popular member of the community, spreading joy and marmalade wherever he goes. While searching for the perfect present for his beloved Aunt Lucy's hundredth birthday, Paddington spots a unique pop-up book in Mr. Gruber's antique shop, and embarks upon a series of odd jobs to buy it. But when the book is stolen, it's up to Paddington and the Browns to unmask the thief...
Warner Bros. rescuing Paddington 2 from the stench of TWC is something worth celebrating, as pretty much anything associated with the Weinstein Company is toxic at this point. Better to salt the earth beneath TWC's feet and consign it to the past.