A 'Labyrinth' Origins Comic Book Will Remind You Of The Babe, Jareth The Goblin King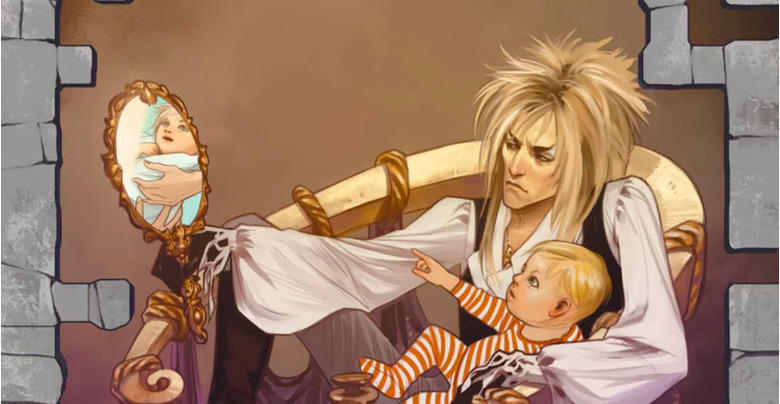 Say it with me: dance, magic, dance, the Goblin King is returning to our lives! This time, Jareth — the original Babe with the power of voodoo (over my heart) — will be casting his spell over readers of a new Labyrinth comic book from writer Simon Spurrier and artist Daniel Bayliss. The comic book series, titled Jim Henson's Labyrinth, will explore the origin story of Jareth the Goblin King and how he came to reside over the titular mystical labyrinth.
Lisa Henson, Henson's daughter and the CEO and president of the Jim Henson Company, described to Entertainment Weekly the story of the ongoing comic book series, which would trace the Goblin King's origins all the way back to 18th century Venice:
"It's the backstory of how Jareth came to be in the Labyrinth himself. The Goblin King, he's not a goblin, he's human. Many people have asked, 'Well, how did he get there?' So, that's something that we thought we would explore."
EW also provided a sneak peek at cover and variant covers of the comic book series under Boom! Studios imprint Archaia. The cover is by Fiona Staples, with a subscription cover by Rebekah Isaacs, and variant covers by Laurent Durieux, Jill Thompson, and Bill Sienkiewicz.
Spurrier described the influences that David Bowie, the late musician and actor who originally brought Jareth to life in the 1986 fantasy film, had on the comic book. But that didn't stop Spurrier from taking creative license with the story, adding his own spin on a character who helped bring leather pants back into fashion (this can't be confirmed, the movie just personally made me love leather pants):
"We're sort of having our cake and eating it. The 'Bowie form' version of the character is very much present in our story. But there's a huge amount of stuff about the people who loved him and he loved. What happened to them? How did this all shake out? How did he come to be who he is? I hope that by exercising both sides of that picture, as well as leaning into all the other amazing things that are fantastic about the Labyrinth as a concept, we should hopefully get our Bowie itch scratched while also enjoying the fantastical, surreal wonder of this world."
I received a battered copy of Jim Henson's cult 1986 fantasy film on VHS for Christmas as a kid, and it forever imprinted upon me the image of David Bowie in glorious feathered hair and too-tight pants. The story of a Goblin King kidnapping a baby Toby at the behest of the impudent teen Sarah, leading her on a quest to retrieve her baby brother, at first traumatized me but soon became one of my favorite forgotten fantasy films — with a song that acts as a great litmus test for finding likeminded fans. The Goblin King was a source of many a young girl's childhood crush, so there will definitely be a built-in fanbase when this comic book origin series hits bookshelves.
Issue #1 of Jim Henson's Labyrinth in February 2018.