Opening Weekend 'Justice League' Box Office Tracking Higher Than 'Wonder Woman', Lower Than 'BvS'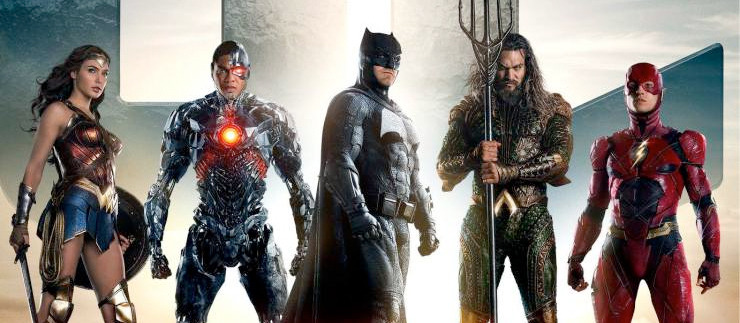 Despite the hubbub about Justice League's Rotten Tomatoes score reveal (which was leaked earlier this morning), it seems like a given that finally putting three of the world's most recognizable superheroes – Batman, Superman, and Wonder Woman – in the same live-action movie will at least end up being a financially successful endeavor. And that's what the Justice League box office tracking numbers are showing: the film is estimated to make $110 million domestically during its opening weekend and as much as $355 million worldwide in that same time period.
Variety says the superhero team-up film will open at over 4,000 theaters in North America, and they reminded us that Batman v Superman: Dawn of Justice – the most recent DC movie directed by Zack Snyder – pulled in $166 million in its opening weekend. $110 mil might seem high, but that kind of cash ain't what it used to be when it comes to blockbuster profits.
Time for a couple more comparisons. Suicide Squad opened to $133 million when it debuted last summer, ultimately going on to make $745 million worldwide. That means people were more curious and excited about seeing Jared Leto's take on The Joker, Margot Robbie's Harley Quinn, and Will Smith's Deadshot than they are about finally seeing more prominent name heroes like Batman, Wonder Woman, Aquaman, and The Flash join forces.
Speaking of Wonder Woman, Gal Gadot's solo movie opened to a lower $103 million before earning over $821 million worldwide by the end of its run. The big factor here that's worth remembering is the production budgets: BVS pulled in $873 million but spent $250 million to make the movie, which is $100 million more than Wonder Woman's $149 million budget. Suicide Squad cost a reported $175 million, and Justice League's budget is rumored to hover somewhere around $300 million. That means it has a long way to go before Warner Bros. sees any profits.
But even if its Rotten Tomatoes score ends up being terrible, Deadline says the film is on track to make between $325-$355 million worldwide in its opening weekend since it's opening in China at the same time as North America. That number would put it higher than Suicide Squad ($267M) and Deadpool ($264.7M).
Early buzz from the movie indicates its an improvement over Batman v Superman: Dawn of Justice, and while it has a villain problem, the team itself is entertaining to watch. Will that be enough to power this movie toward the billion-dollar box office benchmark that WB desperately wants to achieve? Maybe, but when all is said and done, box office numbers are never an indicator of quality and everyone will make up their own minds about how creatively successful the film is when it opens this Friday, November 17, 2017.