'Star Wars: The Last Jedi ' TV Spots: Rey Spars, Poe And Leia Banter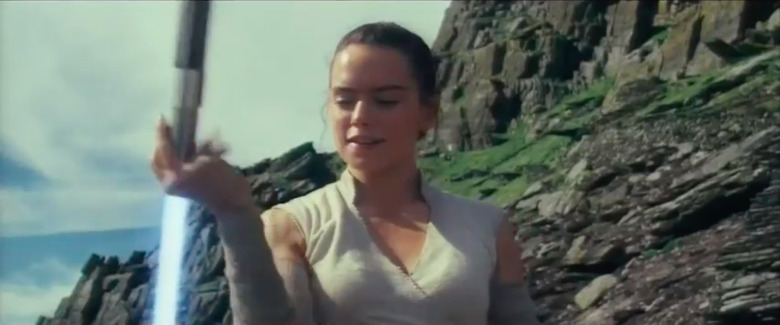 As the release date for Star Wars: The Last Jedi comes closer, Lucasfilm and Disney have amped up the marketing for the latest entry into the ever-growing Star Wars franchise.
Three new TV spots have been released, each highlighting Rey, Finn, and Poe while the ominous Supreme Leader Snoke begins to emerge from the shadows.
Flashes of new footage are sprinkled throughout the TV spots, including new shots of Rey practicing with the lightsaber (and quickly getting the hang of it) and one particularly charming and bittersweet scene of Poe asking for General Leia Organa's permission to "jump in an X-wing and blow something up."
Watch the New Star Wars The Last Jedi TV Spots
This spot isn't particularly Finn-focused, but he gets the majority of the screentime, telling an unseen someone "May the Force be with you." Meanwhile, in the spot titled "Fight," he declares that "I was raised to fight. For the first time I had something to fight for."
But "Fight" is primarily a Rey teaser, in which she angsts over a "something" inside her that has now awoken and threatens to upend everything she's known. We see a shot of Rey training with her staff before she spots the lightsaber that she brought to Luke, and picks it up to start training with it instead. She pleads to someone for help, presumably Luke Skywalker, who has remained in self-exile on the Jedi Temple on Ahch-To for years. That is, until Rey found him at the end of The Force Awakens.
But the third spot has the scene you've been waiting for. After Carrie Fisher's tragic passing last year, trailers have mostly refrained from showing many scenes featuring Leia, possibly out of respect for the late actress. But watching Poe defer to her when he asks to "blow something up," not to mention her deadpan quip back at him, reminds us why we love this character in the first place. It's going to be rough, emotionally speaking, watching Fisher back on the big screen when Last Jedi rolls into theaters next month.
Lucasfilm also released a new Dolby Cinema poster of The Last Jedi by Paul Shipper.
Check out our EXCLUSIVE artwork from @StarWars: The Last Jedi! In one month, see why Dolby Cinema is light years ahead – get tix: https://t.co/LhN9nrF20U pic.twitter.com/uRE9piqfP4

— Dolby Cinema (@DolbyCinema) November 15, 2017
Here is the synopsis to Star Wars: The Last Jedi:
Rey develops her newly discovered abilities with the guidance of Luke Skywalker, who is unsettled by the strength of her powers. Meanwhile, the Resistance prepares to do battle with the First Order.
Star Wars: The Last Jedi is directed by Rian Johnson and stars Mark Hamill, Carrie Fisher, Adam Driver, Daisy Ridley, John Boyega, Oscar Isaac, Andy Serkis, Lupita Nyong'o, Domhnall Gleeson, Anthony Daniels, and Gwendoline Christie in returning roles. New cast members include Kelly Marie Tran, Laura Dern, and Benicio del Toro.Star Wars: The Last Jedi will fly into theaters on December 15, 2017.