'The Assassination Of Gianni Versace' Trailer: The New Season Of 'American Crime Story' Is Gore And Glamour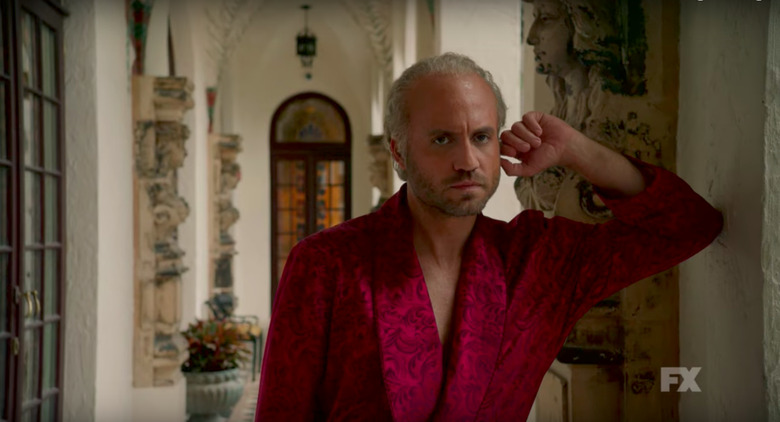 Following up to the acclaimed first season of American Crime Story is a daunting task. How do you match the tour-de-force performance of Sarah Paulson and the tight character beats of The People v. O.J. Simpson? By leaning into the lurid, if the trailer for the second season of FX's true-crime anthology series, titled The Assassination of Gianni Versace, is anything to go by.
The murder of Gianni Versace is embroiled in Hollywood sensationalism. He was a renowned and openly gay fashion designer who was murdered by a spree killer who was enamored with him. The American Crime Story trailer hones in on the troubled relationship between Versace (Edgar Ramirez) and his killer Andrew Cunanan (Darren Criss).
The Assassination of Gianni Versace Trailer
Based on Vulgar Favors: Andrew Cunanan, Gianni Versace, and the Largest Failed Manhunt in U. S. History by Maureen Orth, The Assassination of Gianni Versace explores the events leading up to Versace's death, including how he met Cunanan, the FBI hunt for Cunanan (who had already killed four people prior to shooting Versace), and Versace's sister Donatella's (Penelope Cruz) wary presence throughout the events. Ricky Martin (yes, the former Menudo member and Latin pop singer) also stars as Versace's partner, Antonio D'Amico.
The series takes place over the course of three months in 1997, covering the hot summer day when Cunanan shoots Versace on the steps of his Miami Beach mansion and the ensuing manhunt.
The second season of American Crime Story seems to up the gore and garishness of the series, which makes sense — this is not a months-long court case, but an examination of the players in Versace's murder. While it has no reason to be as subdued as The People vs. O.J. — which had its own moments of bombast — I sincerely hope they don't overdo the lurid tone that's leaking out of the trailer. Darren Criss does impress in his scenes as an overwrought psychopath, but Versace seems like it could be in danger of veering too close to camp if this first trailer is anything to go by. After all, Scott Alexander and Larry Karaszewski (who ran the first season) did not return for season 2. Is this a reason to be wary or a reason to be excited since we'll be getting something completely different?
The Assassination of Gianni Versace premieres on January 17, 2018 at 10 p.m. ET on FX.