Daily Podcast: Justice League, Galaxy Quest, Paul Scheer, Scorsese, Mario Bros, Get Out, Pinocchio & More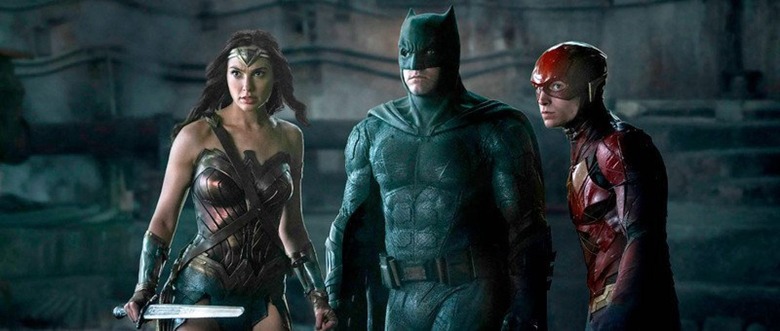 On the November 14, 2017 episode of /Film Daily, Peter Sciretta is joined by /Film senior writer Ben Pearson and writer Hoai-Tran Bui to discuss the latest news, including Justice League reshoots, rotten tomatoes score and Ben Affleck's future as Batman, plans for a theatrical run for Martin Scorsese's Netflix film, adaptations of Super Mario Bros, Are You Afraid of The Dark, Get Out's Golden Globes category, Disney loses their Pinocchio director and Paul Scheer shares some details about the Galaxy Quest tv series and respond to conversations from the podcast.You can subscribe to /Film Daily on iTunes, Google Play, Overcast and all the popular podcast apps (here is the RSS URL if you need it).
In the News:
'Galaxy Quest' TV Show
Continues the Story of the Original Cast, Will Address How Fandom has Changed
'Justice League' Reshoots
Make Up 15-20% of the Movie
Rotten Tomatoes is Delaying the 'Justice League' Score
to the Day Before Release
Ben Affleck Wants
a "Cool and Graceful" Way to Quit Batman
Netflix Won't Confirm a Theatrical Run for Martin Scorsese's 'The Irishman'
'Get Out' Could be Nominated as a Comedy
at the Golden Globes Because the Golden Globes are Weird
'Super Mario Bros.' Animated Movie
in the Works From 'Despicable Me' Studio
An
'Are You Afraid of the Dark?' Movie
is in the Works With 'It' Screenwriter
Disney's Live-Action 'Pinocchio'
 Loses Director Sam Mendes
You can find more about all the stories we mentioned on today's show at slashfilm.com. /Film Daily is published every weekday, bringing you the most exciting news from the world of movies and television as well as deeper dives into the great features from slashfilm.com. You can subscribe to /Film Daily on iTunes, Google Play, Overcast and all the popular podcast apps (RSS). We're still very much experimenting with this podcast, please feel free to send your feedback to us at peter@slashfilm.com. Please rate and review the podcast on iTunes and spread the word! Thanks to Sam Hume for our logo.