'It' Floats Onto Digital In December And Blu-Ray January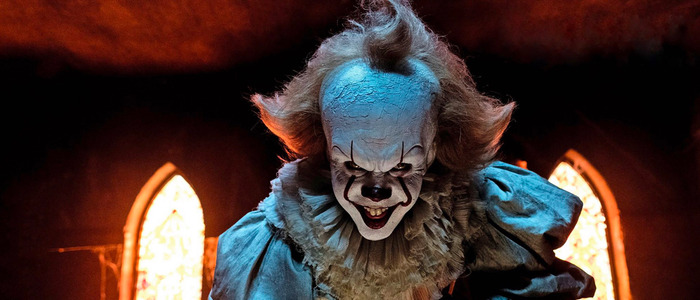 Ready to bring Pennywise the Clown into your home? It, the blockbuster film adaptation of Stephen King's tale of terror, is about to hit Blu-ray and Digital and terrify audiences all over again. The film will be released on Digital this December, and Blu-ray January 2018, just in time to give you new nightmares for the new year. Get the It Blu-ray release date info below.
Andy Muschietti's It ended up joining the ranks of the best Stephen King adaptations in recent memory. The pulse-quickening scares and the incredibly likable cast combined to create one of the best horror films of 2017, and ended up being a smash hit at the box office, breaking multiple records. Now, the film is getting ready to hit home video.
On December 19, 2017, the terrifying flick will be available to own for streaming and download to watch from select digital retailers including Amazon, iTunes, PlayStation, Vudu, Xbox and others, before arriving on 4K Ultra HD Blu-ray Combo Pack, Blu-ray Combo Pack, and DVD on January 9, 2018. While it's tempting to get the film early digitally, I personally will be holding out for the Blu-ray, because I'm a physical media kind of person. Speaking of which, read my latest physical media column!
In the film, a group of seven outcasts (Jaeden Lieberher, Wyatt Oleff, Jeremy Ray Taylor, Sophia Lillis, Finn Wolfhard, Jack Dylan Grazer and Chosen Jacobs) band together in their town of Derry, Maine, to do battle with the malevolent, demonic Pennywise the Clown (Bill Skarsgård). Dig the box art and special features below.
The Digital and Blu-ray release also comes packed with special features, including a look at how actor Bill Skarsgård prepared for his Pennywise role, and a feature devoted to It author Stephen King, which, as a huge King fan, I'm dying to see. There are also eleven deleted scenes, which I'm very curious about – will they add even more to the already full story, or are they brief moments that are better off on the cutting room floor? Here's the full list of features:
Pennywise Lives! – Discover how Bill Skarsgård prepared to portray the primordial creature known as Pennywise the Dancing Clown
The Losers' Club – Get up close and personal with the teenage stars of "IT" as they bond together during the production,
Author of Fear – Stephen King reveals the roots of his best-selling novel, the nature of childhood fear and how he created his most famous monster, Pennywise
Deleted Scenes – Eleven deleted or extended scenes from the film