'Waco' Trailer: Michael Shannon And Taylor Kitsch Face Off In A New TV Miniseries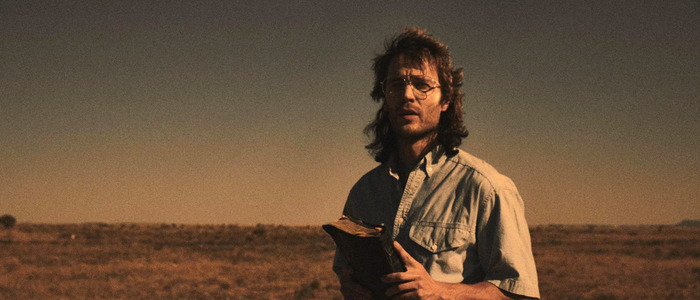 In 1993, a standoff at the compound of the Branch Davidians religious sect in Waco, Texas made headlines when the FBI, ATF, and the members of David Koresh's group collided with fatal results. Now the events leading up to that fateful standoff are receiving the dramatic treatment with Waco, a star-studded 6-part miniseries event for the newly-renamed Paramount Network.
Spike TV is getting ready to rebrand itself in 2018 as the Paramount Network, and to kick-off their new name they'll be launching a prestigious 6-part miniseries loaded with one killer cast. Michael Shannon, Taylor Kitsch, John Leguizamo, Andrea Riseborough, Rory Culkin, Melissa Benoist, Paul Sparks, Shea Whigham, Camryn Manheim, and Julia Garner star in Waco, a dramatization of the fatal 1993 standoff between the FBI, ATF and Branch Davidians in Waco, Texas. A new Waco trailer has just arrived to sell you on this event:
Waco trailer
One interesting takeaway from this trailer is that Waco will attempt to paint a somewhat sympathetic portrait of Branch Davidian leader David Koresh (played by Taylor Kitsch), who was often portrayed more as an unhinged cult leader in the press stories surrounding the stand-off. The trailer also makes use of yet another slowed-down cover of a song, in this case "These Boots Are Made for Walkin'." But there's actually a morbidly clever reasoning behind the use of the song here: during the standoff, the FBI blasted the Nancy Sinatra version of that song on repeat, day and night, in an attempt to drive Koresh out of the compound.
Here's the official Waco synopsis:
WACO is a brand new 6-part series from Paramount Network based on the true story that shocked the world of religious leader David Koresh's Branch Davidian compound in Waco, Texas in 1993. In February 1993, the Bureau of Alcohol, Tobacco, and Firearms (ATF) conducted a raid on a small religious community near Waco, TX. A 51-day standoff with leader David Koresh and his followers, the Branch Davidians, ensued and ended after an FBI assault led to a fire that killed 76 people.
The series is based on two different biographies: A Place Called Waco by David Thibodeau, one of the nine Branch Davidian survivors of the standoff, and Stalling for Time: My Life as an FBI Hostage Negotiator by Gary Noesner. Rory Culkin plays Thibodeau and Michael Shannon plays Noesner in the series. As an aside, it's worth noting that Waco is something of a mini-Boardwalk Empire reunion as Michael Shannon, Paul Sparks and Shea Whigham all previously appeared on the HBO series.
Waco premieres January 24, 2018.