'Deadly Class' First Look Reveals A Group Of Young (Possibly Doomed) Assassins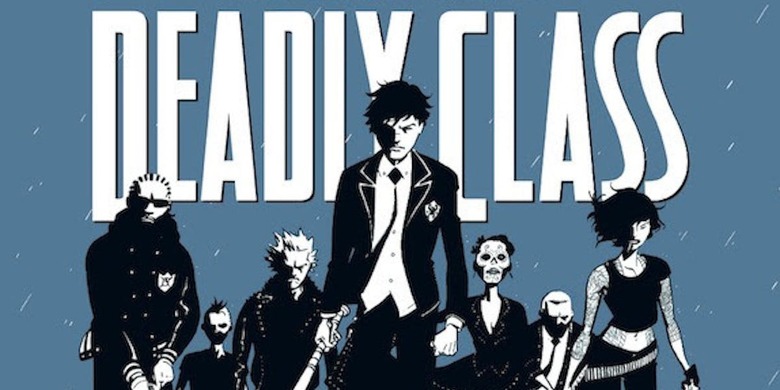 Deadly Class is the latest comic book to make the jump from the page to screen and Syfy could have a real winner on their hands. Rick Remender and Wesley Craig's soul-searing tale of high school life in an academy for young assassins has been one of my favorite comics since it debuted in 2014, and a first look at the television adaptation's cast reveals a group of kids who are in for a very rough couple of years.Captain America: Civil War and Avengers: Infinity War directors Joe and Anthony Russo are executive producers on the Deadly Class television series and they revealed a first look at the show's core ensemble.
Set in the late '80s, Deadly Class is a high school drama with high stakes. In addition to the usual teen cliques and young romances, the kids have to deal with the fact that they're students at King's Dominion Atelier of the Deadly Arts, a secret school built under San Francisco that exists to transform them into master killers. It's a fun high concept and one that Remender and Craig frequently use to great effect on the page – despite the outrageous starting point, the humiliations and trials of teenage life always shine through, connecting you to these characters who you should have no business connecting with.
Syfy is an interesting home for Deadly Class. Although it has yet to find a new Battlestar Galactica (i.e., a show that grabs the attention of non-genre fans), the channel is home to a number of eclectic shows that are seemingly allowed to break free from the expected norms. What does Deadly Class, a grim comic with a brilliant, bloody premise, look like on the network that allows the demented Channel Zero to exist? I'm very interested to find out.
Benjamin Wadsworth, Lana Condor, Maria Gabriela de Faria, Luke Tennie, Liam James, Michel Duval, Henry Rollins, Taylor Hickson, Siobhan Williams, Jack Gillett, Sean Depner, Ryan Robbins, and Benedict Wong star in the series. Adam Targum (Banshee) serves as the showrunner, with Lee Toland Krieger (The Vicious Kind) set to direct a pilot script by comic co-creator Rick Remender and Miles Feldsott. Here's the official synopsis for the comic series:
It's 1987. Marcus Lopez hates school. His grades suck. He has no money. The jocks are hassling his friends. He can't focus in class, thanks to his mind constantly drifting to the stunning girl in the front row and the Dag Nasty show he has tickets to. But the jocks are the children of Joseph Stalin's top assassin, the teachers are members of an ancient league of assassins, the class he's failing is 'Dismemberment 101,' and his crush, a member of the most notorious crime syndicate in Japan, has a double-digit body count.
Welcome to the most brutal high school on Earth, where the world's top crime families send the next generation of assassins to be trained. Murder is an art. Killing is a craft. At King's Dominion High School for the Deadly Arts, the dagger in your back isn't always metaphorical, nor is your fellow classmates' poison.