'Justice League' Reshoots Make Up 15-20% Of The Movie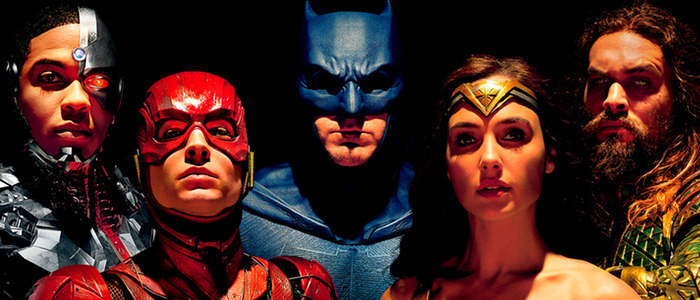 The making of Warner Bros.' long-brewing Justice League is as fraught with drama as almost anything you'll see in a theater this year. Following financially successful but critically despised movies like Batman v Superman and Suicide Squad, DC Films changed its tactics and wanted to lighten things up a little bit. Part of that decision involved hiring Joss Whedon to come in and rewrite sections of the film's screenplay, and ultimately Whedon stepped into the director's chair to direct reshoots when original director Zack Snyder stepped away due to a death in the family.
Those reshoots and their impact on the movie have become a central talking point for fans and we've spent a long time speculating about what the final film will look like. Some of us have seen it already, but now, just a few days from its official release, one of the movie's producers has come forward and revealed the ratio of Whedon's Justice League reshoots to the footage Snyder originally shot for the superhero sequel.
In an interview with the Associated Press (via The Playlist), producer Charles Roven – who's produced every live-action movie involving Batman movie since Batman Begins – says that Whedon filmed between 15-20% of what we'll see in Justice League's final cut:
"The goal is to make sure when you're watching the movie, it all feels cohesive. That imprint that Joss had, some aspect of it is going to come out in the direction, but the actors are already pretty much down the road on their arcs. Let's just say 80, 85 percent of the movie is what was originally shot. There's only so much you can do with other 15, 20 percent of the movie."
Months ago, we heard whispers suggesting the film had been "completely remade" in its reshoots, and if Roven's numbers are accurate, it would seem to discount a lot of those early rumors. We later learned that the reshoots cost $25 million and lasted for two months, which is far longer than the time that's normally built in for potential blockbusters like this. Actor Ray Fisher (who plays Cyborg) initially dismissed the importance of the movie's reshoots at San Diego Comic-Con, saying they were "brief, if anything." 15-20% sounds a bit heftier than his comment implied, and we do know that the reshoots added some sexual tension between Bruce Wayne and Diana Prince.
I'm seeing the movie tonight, but from what I've gleaned from early buzz and speaking with people who've seen it already, it sounds as if the distinction between the footage Snyder shot and the footage Whedon shot is pretty clear...for the most part. /Film's Peter Sciretta was on the set, and even back then he noted a distinct change in tone: "Even though Justice League may look much like the other Zack Snyder DCEU films, it feels like a much different film from Man of Steel or Batman v Superman. There are moments of humor, humanity, personality and color."
I'm guessing there will be a few moments that will surprise us when we learned that the other guy directed them, and here's hoping we get an in-depth documentary about the making of this movie or a tell-all book from someone on the set sometime in the next few years.
Justice League blasts into theaters on November 17, 2017.