Ben Affleck Wants A "Cool And Graceful" Way To Quit Batman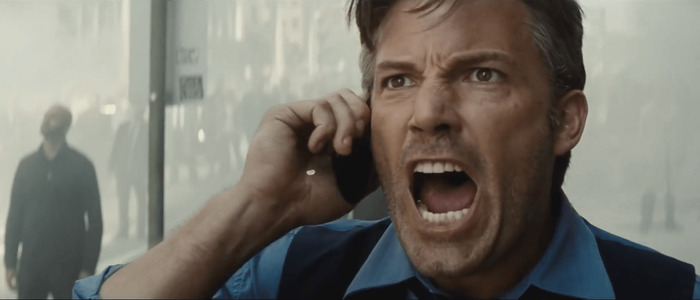 What is the deal with Ben Affleck's Batman? It seems every month there's a conflicting story regarding the man fans call Batfleck – he's either staying for more Bat-adventures or he's getting ready to jump the DCEU ship. Now Affleck himself has offered an update on the part, and confirmed that his Bat-days are limited, and that he's looking for a "cool way" to leave the DCEU. Is Ben Affleck done with Batman?
Ben Affleck has played the Dark Knight for three films now: Batman v Superman: Dawn of Justice, an extended cameo in Suicide Squad, and the upcoming Justice League. The actor has been involved with the DCEU one way or another since 2013, when he first signed-on to play Batman in what eventually became Batman v Superman. While the expectation has always been that Affleck would eventually lead his own solo Batman adventure, that may not happen. While there is currently a stand-alone Batman film in development with Matt Reeves directing, Affleck's involvement is now up for grabs.
In a new USA Today feature all about Justice League, Affleck revealed that he hasn't committed to the project completely:
The new Batman movie being developed by Matt Reeves (War for the Planet of the Apes) is "something I'm contemplating," says Affleck, who originally was tapped to direct. "You don't do it forever, so I want to find a graceful and cool way to segue out of it."
Rumors about Affleck's departure following Justice League have swirling for a while now. Yet after those rumors broke, Affleck himself seemed to deny them, saying:
"I am the luckiest guy in the world. Batman is the coolest f***ing part in any universe. It's f***ing amazing and I still can't believe it after two films... And Matt Reeves doing it, I would be an ape on the ground for Matt Reeves. And I think you'll see why I'm so excited to be Batman."
Now it looks like Affleck is back to being uncertain. As USA Today mentions, Affleck was originally set to direct the stand-alone Batman film, but he stepped away for reasons that were never made clear. When Matt Reeves was brought on board to helm the film in Affleck's stead, Reeves threw out the script that Affleck, Chris Terrio, and DC Film's Geoff Johns' had all worked on.
Affleck's crazy, angry, xenophobic Batman was one of the better elements of Batman v Superman, and it's clear that he had high hopes for the role or else he would've never agreed to sign on to multiple films. But it's also clear that production problems, not to mention an overall uncertainty about just what the heck the DCEU is trying to accomplish, have took a toll, and Affleck may be tired of putting on the cape and cowl.
For now, though, we'll get to see Affleck's potentially final time as Batman when Justice League hits theaters November 17, 2017.