Paul Bettany's Han Solo Character Is An Intergalactic Gangster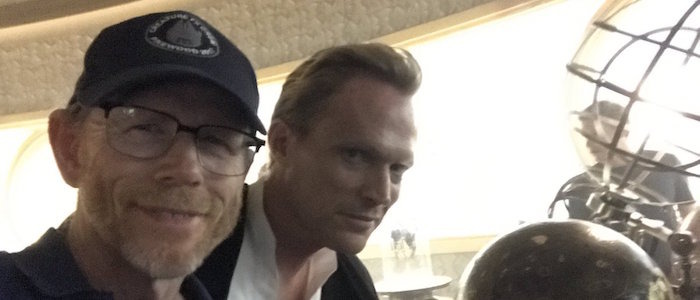 If you're a /Film reader, you're probably familiar with the messy production of Solo: A Star Wars Story by now. We've written about the firing of original directors Phil Lord and Chris Miller, the hiring of Ron Howard to finish the movie, how actor Michael K. Williams could not return for the reshoots, and how Paul Bettany stepped in to take his place. Now, we've reached the point where we can start talking about Solo as an actual movie and not something that is totally on fire.
Case in point: we can now talk a little about who Bettany is playing in the movie.
Speaking from a panel at the Rhode Island Comic-Con (via Comic Book Movie), the actor revealed that he's from the "wretched hive and scum and villainy" class of Star Wars characters:
I'm not sure. I might get sued is that answer to that one. I can't answer that. But obviously I am a very cool intergalactic gangster.
When the first image of Bettany in costume showed up on Ron Howard's Twitter feed, we suggested that he was dressed like some kind of fancy-pants criminal. And how he's confirmed it. Thanks for encouraging us to jump to Star Wars-based conclusions, Mr. Bettany!
Of course, we still don't know what kind of role Bettany has in the story of Solo. His clothes suggest that he's a higher tier of criminal than the scrappy Han Solo, but we don't know if he's on the side of Alden Ehrenreich's young smuggler or if he's a villain. Or maybe he's both! Allegiances have been known to shift quickly in the Star Wars underworld.
The one thing we know for sure is that Bethany's character wasn't always human. The character was originally an alien, played via motion capture by Michael K. Williams. It should be noted that Williams has a long history of playing crooks: he was the infamous stick-up man Omar in The Wire and the slick crime boss Chalky White in Boardwalk Empire. Williams excels at playing underworld figures of all stripes, so it's impossible to know if Bettany's character will be similar in tone or a complete and total reinvention. We'll probably know more when the tell-all book arrives in a decade or so.
Meanwhile, Solo: A Star Wars Story is still set for a May 25, 2018 release date. With filming completed, we will surely being seeing a trailer sooner rather than later...right?