The Next Quentin Tarantino Movie Officially Lands At Sony [UPDATED]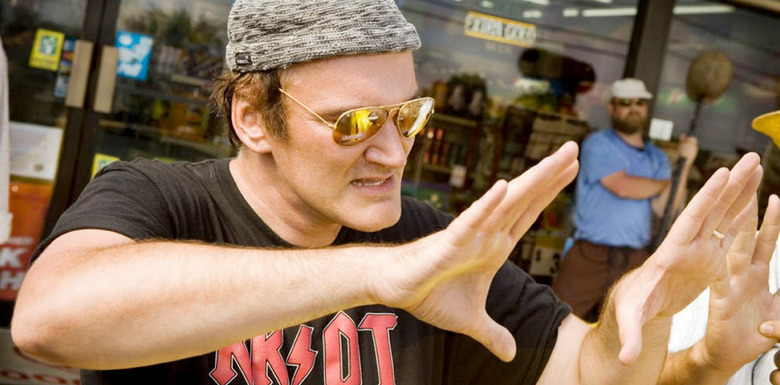 Update 2: Deadline reports that Sony has officially secured Quentin Tarantino's ninth movie. Production will begin next year for a 2019 release date. Leonardo Dicaprio, Brad Pitt, and Tom Cruise have had conversations with with Tarantino about a role.Update: According to Variety, three studios are locked in a heated battle to secure distribution rights for Tarantino's next movie. Warner Bros., Paramount, and Sony are vying for the rights, with WB and Sony each utilizing flashy presentations in an attempt to convince the filmmaker to choose them over the competition. Meanwhile, Deadline reports that Tom Cruise is being considered for a role. Our original article follows.
"Quentin Tarantino takes on Charles Manson!" is such an intriguing headline that it's not surprising that everyone assumed the Pulp Fiction and Inglourious Basterds director was making an entire film about the infamous murderer and cult leader. However, Tarantino recently clarified that his movie is not specifically about Manson. Rather, his next movie is about the year 1969.
Speaking from a post-screening brunch of potential awards contender The Beguiled (Tarantino was there in support of director Sofia Coppola), the Django Unchained and The Hateful Eight director said of his next project (via IndieWire) "It's not Charles Manson, it's 1969."
This aligns with recent stories that Tarantino's ninth movie would only feature Manson in a supporting role, contrary to the earliest reports about the film. As was reported earlier this month:
There has been a lot of press that the script focuses on Charles Manson and the murder spree he orchestrated, but I'm told that is akin to calling Inglourious Basterds a movie about Adolf Hitler, when the Nazi leader was only in a scene or two.
This all makes sense, of course. While Tarantino has dabbled with history before, it's always been from an askew angle, using elements of reality to build a fantasy. Inglourious Basterds is the most obvious example, depicting an alternate universe World War II with a very different ending. It's easier to imagine him making a movie that takes place in the world of Charles Manson than a Charles Manson movie.
And while the actions of Charles Manson and his murderous followers have kept true crime writers employed for nearly half a century, the people and places that orbited him are just as fascinating. If you want a taste of what to possibly expect from this project now that Tarantino has said it's about 1969, I'd highly recommend the "Charles Manson's Hollywood" series on Karina Longworth's incredible You Must Remember This podcast. Before he was recognized as a psychopath and locked away in prison, Manson ran in a number of Hollywood circles, brushing shoulders with movie stars and rock stars and creating a dense web worth exploring. It's not clear what or who Tarantino's movie will focus on, but Hollywood in 1969 was a fascinating place – Old Hollywood standing against New Hollywood in a nation poised for political revolution. This is far more interesting than just a Charles Manson movie.
But first, the film needs to find a distributor. After parting ways with The Weinstein Company following the accusations of sexual assault against Harvey Weinstein, Tarantino began shopping his script around to various studios. When asked to comment, he would only say, "It's a level playing field."
The untitled film, which is rumored to count Margot Robbie, Leonardo DiCaprio, and Samuel L. Jackson amongst its ensemble, could begin production next year.