'The Greatest Showman' Trailer: Hugh Jackman Shows Off His Singing Chops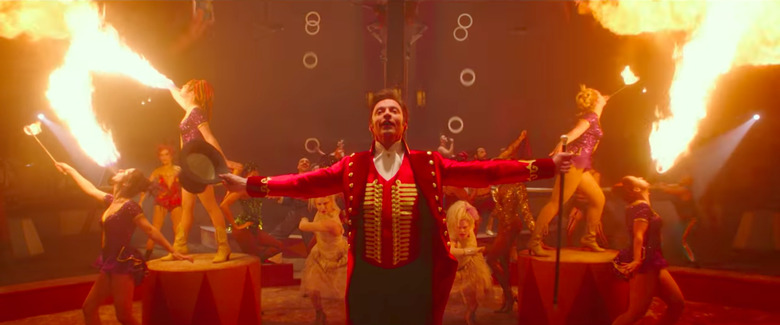 You can't put on a show without some music, and the new The Greatest Showman trailer is here to remind you that it is, in fact, a musical.
Hugh Jackman stars as P.T. Barnum, the founder of the famous traveling circus and self-ascribed "Greatest Show on Earth," as he risks his career and reputation to create the beloved Barnum & Bailey Circus.
Watch The Greatest Showman Trailer
The previous trailer for The Greatest Showman was a bit more somber but just as inspiring as this newly released trailer, which once again emphasizes the "found family" that Barnum creates for his members of the circus. But we're introduced to another obstacle that Barnum and his circus faces: the stern and violent disapproval of the buttoned up London society, which protests Barnum's family of freaks.
Jackson has long bemoaned the fact that he's more well-known for his ripped bod and adamantium claws than his musical roots, and he couldn't look happier in his return to being a song-and-dance man at the center of the trailer's aptly named song, "The Greatest Show." It's a little odd that the song sounds like an Imagine Dragons track, but maybe it's a new trend to play anachronistic, poppy songs in period pieces (shout out to the Murder on the Orient Express trailer, which makes ample use of an actual Imagine Dragons song).
There's no question, however, that the beaming P.T. Barnum and his beautiful family and employees will get through this — the trailer practically oozes sugary sweetness. It doesn't hide the fact that it's a made-to-order dessert for your Christmas dinner, and will be an uplifting family movie to watch while your mom ogles Hugh Jackman and your teen sister ogles Zendaya or Zac Efron.
The star-studded The Greatest Showman is directed by Michael Gracey and also stars Michelle Williams, Zac Efron, Zendaya, Rebecca Ferguson.
Here's the official synopsis for The Greatest Showman:
Inspired by the imagination of P. T. Barnum, The Greatest Showman is an original musical that celebrates the birth of show business & tells of a visionary who rose from nothing to create a spectacle that became a worldwide sensation.
The Greatest Showman is set to hit theaters on December 20, 2017.