Cool Stuff: Hero Complex Gallery's 'Thor: Ragnarok' Art Is Now On Sale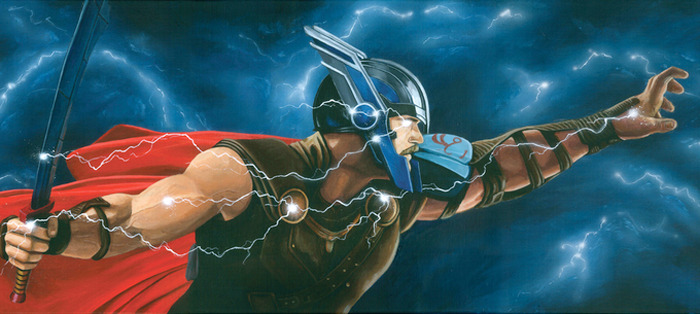 In its second weekend, Thor: Ragnarok will remain at the top of the box office, pulling in an estimated additional $56 million at the domestic box office. That brings the US box office total to $211.6 million, putting the Marvel Studios sequel at the #9 spot on the list of the highest grossing movies of 2017, and that's after just 10 days of release. If you love the movie as much as everyone else, you might want to get some new artwork to decorate your walls.
Hero Complex Gallery hosted a special Thor: Ragnarok art show leading up to the release of the movie (and we previewd some of our favorite pieces). Now artwork from the show is available for you to purchase. There are pieces from favorites like 100% Soft, Andy Fairhurst, Anthony Petrie and more. Check out the various Thor Ragnarok art show pieces available to buy below.
Here are some of the Thor Ragnarok art pieces from Hero Complex Gallery's exhibit:
These Thor Ragnarok prints are all pretty great, and you can pick them all up at Hero Complex Gallery's online shop. My only complaint is that Korg doesn't get nearly enough love in most of the prints, and he's the runaway new favorite of the franchise. Plus, we could stand to see a little more Valkyrie across the board.
But personally (and beware of mild spoilers), what I'd really like to see is some kind of Playbill poster for the ply that Loki has put on while he's in disguise as Odin. How great would it be to have a poster with Matt Damon as Loki, Luke Hemsworth as Thor and Sam Neill as Odin? That would be pretty damn fantastic.