UPDATED: Is This Our First Look At Alden Ehrenreich In 'Solo: A Star Wars Story'?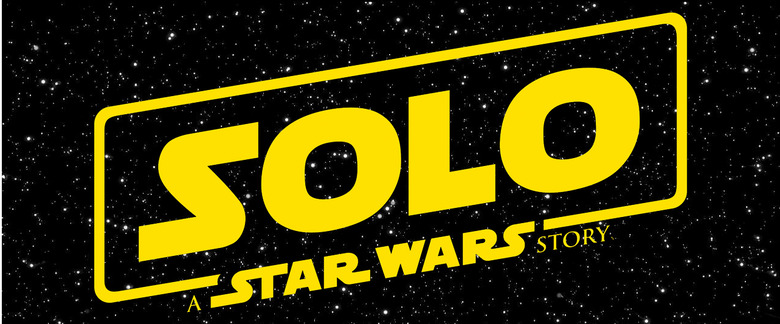 We've heard plenty about next year's new Star Wars spin-off focusing on Han Solo. After a troubled production saw directors Phil Lord and Chris Miller let go from the project, only to be replaced by director Ron Howard, the film wrapped back in October and was finally given the official title of Solo: A Star Wars Story. But when will we get our first official look at the movie? It might be today.
Thanks to a new piece of promotional material from the Hawkins Theater chain, it appears that we have been given the first image of Alden Ehrenreich as Han Solo in the spin-off that dives into the smuggler's origin story. Check out the Solo: A Star Wars Story first look below.
MakingStarWars had this photo of the Harkins Theatres promotional cup sent to them by Twitter user Mike De Rose: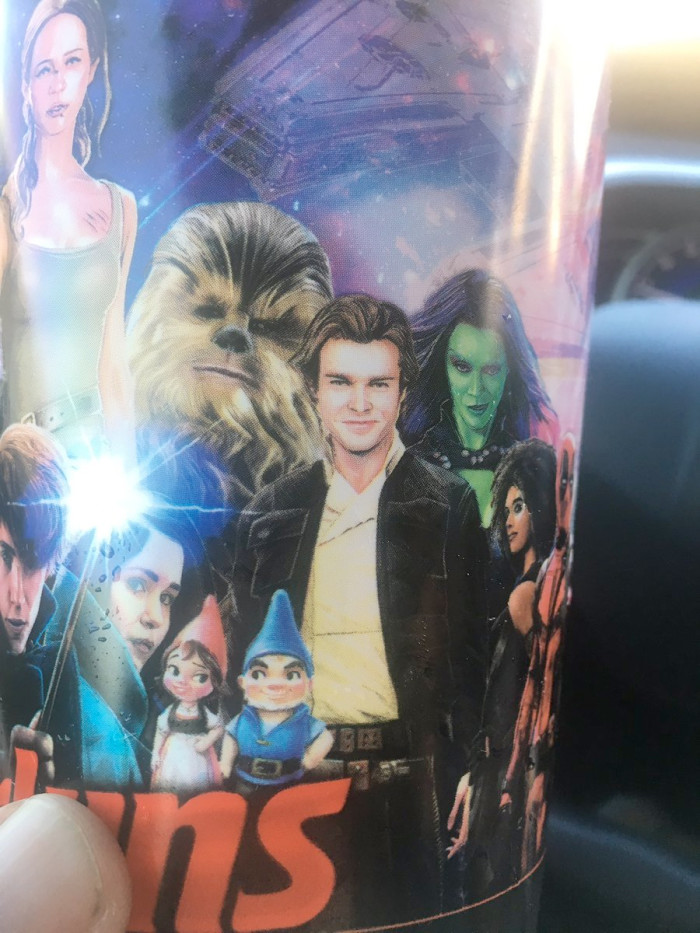 As you can see, the cut isn't just promoting Star Wars movies, but a bunch of the big blockbusters coming in 2018. Along with Alden Ehrenreich as Han Solo, we have Zoe Saldana as Gamora for Avengers: Infinity War, Alicia Vikander as Lara Croft in Tomb Raider, Eddie Redmayne and Katherine Waterston as Newt Scamander and Tina Goldstein in Fantastic Beasts and Where to Find Them and Zazie Beetz as Domino alongside Deadpool on the far right.
Han Solo is the only character we haven't seen in some kind of still released by the studio, but with all the trademarked characters on this cup, there's little to no chance that this isn't an official image of Alden Ehrenreich as Han Solo, even if it's concept art instead of an stylized still photo. Harkins Theatres would get in serious trouble if they had trademarked characters on a promotional item like this without permission. That being said, this could easily be some kind of fan creation, since there are plenty of fans out there who like to play pranks on the internet like this for some reason.
We're leaning towards accepting this as an official image, but hopefully we'll find out sooner than later. MakingStarWars says this particular outfit is what Han Solo will be wearing in the third act of the movie, so we'll be bound to see the smuggler wearing several different looks throughout his origin spin-off.
UPDATE: It looks like our suspicions were correct, and this is an unofficial creation:
Total fake. Its a recoloured image from an old fan made teaser poster with a new image of Alden (badly) stuck on it. pic.twitter.com/saY3UKVosd

— ~ Paul ~ 🏴󠁧󠁢󠁳󠁣󠁴󠁿 🇪🇺 (@Rogue_74) November 13, 2017
With Star Wars: The Last Jedi on the way, we're not sure if Lucasfilm will tease the arrival of Solo: A Star Wars Story before the end of 2017. After all, we didn't get the first Rogue One teaser until April of 2016 at Star Wars Celebration. But more than likely we'll get some kind of look at the Han Solo movie before that, even if it's just in the form of stills from the movie.
Solo: A Star Wars Story is slated to hit theaters on May 25, 2018.