'The Secret Life Of Pets 2' Drops Voice Star Louis C.K. After Sexual Misconduct Admission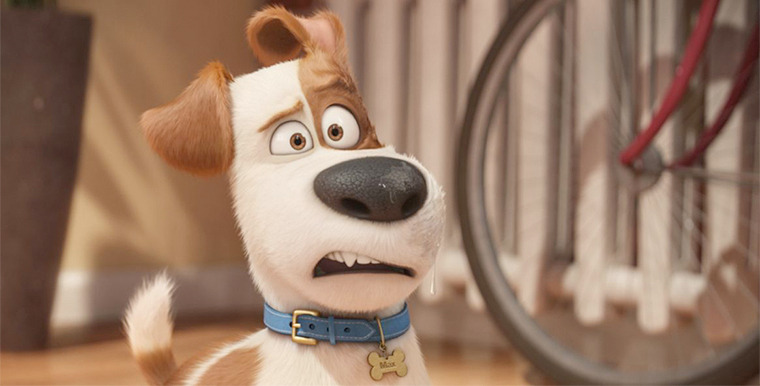 The Secret Life of Pets was a runaway family film hit at the box office after pulling in $368.3 million at the domestic box office and $875.4 million worldwide. Universal Pictures and Illumination Entertainment were so happy with the results that they quickly ordered a sequel to arrive in the summer of 2019. But in light of recent events, that sequel will be missing one of the original film's voice stars.
Louis C.K. has been removed as one of the voice stars of The Secret Life of Pets 2 following his admission to committing several acts of sexual misconduct throughout his career. The comedian played Max, the Jack Russell Terrier who got caught up in a series of misadventures in New York City along with his unwelcome new mutt companion Duke (Eric Stonestreet), but he will now be replaced with another actor.
Following Louis C.K.'s admission to these acts of sexual misconduct, all of the comedian's collaborators have been cutting ties with him, so it should come as no surprise that Deadline has revealed Universal Pictures and Illumination Entertainment don't want him anywhere near their successful family film franchise.
As of now there's no indication as to who will replace Louis C.K. or if the story will be modified in any way to make his character less prominent. More than likely, it will be easiest to get another actor to play the character and just move forward. In all honesty, Louis C.K. didn't really bring anything special to the character, who is just an everyman dog that could probably be played by any actor.
This is just another piece of the ongoing fallout of Louis C.K.'s career. Following the allegations from five women in a New York Times story earlier this week, and the admission that followed, The Orchard axed the distribution deal they had struck for his indie drama I Love You, Daddy. Netflix canceled plans to release a second original stand-up special as part of their deal with the comedian. HBO removed Louis C.K. from the Night of Too Many Stars benefit show and also took away all of the comedian's projects from HBO Go. FX severed all ties with Louis C.K. and his production company Pig Newton. And TBS suspended production on the animated series The Cops that the comedian was working on with Albert Brooks.
Louis C.K.'s career likely won't be resurrected anytime soon since his publicist, manager and agent have all dropped him from their client roster. There's no telling if the industry will ever be able to forgive him for these transgressions (or if he even deserves to be forgiven), but the comedian himself said in his official statement on the controversy, "I have spent my long and lucky career talking and saying anything I want. I will now step back and take a long time to listen."
This is another extremely upsetting, disturbing and disappointing turn in the ongoing revelations of sexual harassment in Hollywood. These kind of accusations don't appear to be going anywhere, which is simultaneously sad and encouraging. It's sad that there are so many cases of sexual harassment and misconduct in Hollywood, but it's encouraging that people are listening in a way that they never have before. Hopefully we can start to weed out the powerful people who have used their position in the industry to manipulate people in such an inappropriate manner. But it appears plenty more prominent entertainers may fall before we're finished.