'Batman: Gotham By Gaslight' Trailer: The Dark Knight Vs. Jack The Ripper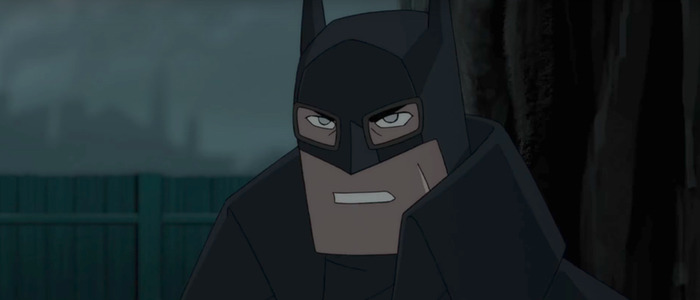 It's the Dark Knight vs. Jack the Ripper in Batman: Gotham By Gaslight. The all-new, R-rated adaptation of the Elseworlds comic takes Batman back in time, to an era where Jack the Ripper leaves London and begins stalking the streets of Gotham. A new Batman Gotham by Gaslight trailer provides our first look at this new animated Batman adventure.
What if notorious (and un-caught) serial killer Jack the Ripper came across the pond and ended up in Gotham City? That's the premise of Batman: Gotham by Gaslight, the latest animated DC adventure. Like previous DC animated adaptations, Gotham By Gaslight has an R-rating, which means this isn't for the kids.
Batman: Gotham by Gaslight trailer
There's a lot to unpack here. First and foremost is the fact that the usual animated Batman voice actor Kevin Conroy isn't involved. Instead, Star Trek and Gerald's Game actor Bruce Greenwood is providing the voice of the Dark Knight. The second thing to notice: the animation leaves something to be desired. Perhaps I'm being too picky here, but I long for the glory days of Batman: The Animated Series, where the animation was stylish and gorgeous to look at. The animation here, in sharp contrast, is rather flat – it lacks both style and depth. This is a problem that's been plaguing a lot of recent DC animated films, particularly the recent The Killing Joke, which was terrible.
That said, Gotham by Gaslight is a really entertaining story. The original comic that inspired it was written by Brian Augustyn, with art by Hellboy creator Mike Mignola. It's the very first Elseworlds story in the DC universe – non-canonical tales that take DC characters and drop them into different timelines and realities. There have been quite a few excellent Elseworlds tales, including Superman: Red Son, which asked the question, "What would've happened if Superman's escape pod had landed in the Soviet Union instead of America?"
Gotham by Gaslight is still one of the best of the bunch, primarily for its neat concept and for Mignola's fantastic art. While the animated adaptation doesn't seem to be porting Mignola's style over, here's hoping it'll get the story right. Here's the official synopsis:
In an age of mystery and superstition, how would the people of Gotham react to a weird creature of the night, a bat-garbed vigilante feared by the guilty and the innocent alike? The very first Elseworlds tale re-imagines the Dark Knight detective in Victorian times and pits him against the infamous murderer Jack the Ripper.
Gotham by Gaslight also features the voice of Jennifer Carpenter as Selina Kyle and Anthony Head as Batman's loyal butler Alfred. Batman: Gotham by Gaslight comes to Blu-ray and digital in 2018.